3 Stars of Destiny
Stop an evil god from taking over! in addicting 3 Stars of Destiny Game
System Requirements
OS: Windows XP/Vista
CPU: 800 Mhz
RAM: 256 MB
DirectX: 9.0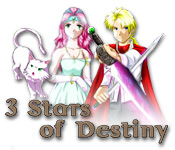 3 Stars of Destiny Game Description
The evil orc Ozur has discovered some powerful energy that will make him completely and totally unstoppable! It's up to you to prevent Ozur from gathering this energy as you quest to the 3 Stars of Destiny! Customize your character's abilities and skills in this exciting role-playing game. Explore mysterious lands as you travel far away form your home and finally confront Ozur. Can you stop his evil plan?
3 Stars of Destiny full version features include:
Customizable characters
Immersive atmosphere
Save the world!
3 Stars of Destiny Game Customer Reviews
This game is a fantastic RPG experience with beautiful maps, lovely music and witty dialogue. The story is cute and enthralling. It shows a developing relationship between some teenagers, which turns into friendship and even love. They are faced with some difficult trials and eventually face a final threat which threatens their existance and the balance in their world. The dialogue is witty and I personally cannot find fault with it except for the occasional spelling error. The fighting is good as it gives you the option of the enemy encounter rate and how hard you like your fights. The rush and escape options are a good addition for the at times repetitive random encounters. The worlds you are exploring are very differing and at times huge. It ranges from a boggy swamp, to nice towns to a hall of madness where nothing is as it seems. For casual gamers this game is ok as you dont have to find everything to be able to advance through the game and enjoy the story. This game is also good for the hard core RPG gamers as this game has many many secrets and does take a while to find everything. For the price this game is definitely worth it in my opinion.

- by mellowkat
Great RPG for the casual gamer. If you like games in the style of Aveyond you will love this game. Plenty of hours of gameplay, good value. Couldn't find a walk through for it, but there is a forum with plenty of info on quests and stuff.

- by LilDkRose
Related Games
If you like 3 Stars of Destiny game, you may also like...