7 Wonders: Magical Mystery Tour
Go on a Magical Mystery Tour! in addicting 7 Wonders: Magical Mystery Tour Game
System Requirements
OS: Windows XP/Windows Vista/Windows 7/8
CPU: 800 Mhz
RAM: 256 MB
DirectX: 9.0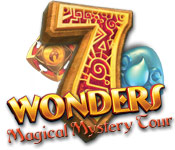 7 Wonders: Magical Mystery Tour Game Description
See the 7 Wonders and go on a Magical Mystery Tour in this incredible Match 3 game! Go on a sensational journey to enchanting sites and match the magical runes to restore legendary locations. Repair El Dorado, Atlantis, Shangri-La, and others with help from your crew of Guild Workers. Can you gather the resources needed to repair the 7 Wonders? Take on this challenging Match 3 game and find out!
7 Wonders: Magical Mystery Tour full version features include:
Magical locations
Epic journey across the world
Go on a Magical Mystery Tour!
7 Wonders: Magical Mystery Tour Game Customer Reviews
love, love, love everything about this game! nice music, pretty colors, harmless things that go BOOM! and blow up, lots of little distractions (more mini than mini-games even). so glad i found it!

- by ahhgoosh
This will be the first 7 Wonders I'll be buying because... it has a Zen mode! Yeh! Yippie! No timer! That's the way I like it!

Of course for all the other fishies loving a challenge there are more modes to choose from, beginning by Normal. Meaning, amongst others, timed. There you are. Fun for everyone!

I think this is a very cute game. I like seeing those moving little figures at the bottom of your screen, I like the overall happy atmosphere. Really a nice change from the usual stuff I'm buying being the thrilling kind of HOGs.

A very good M3 game I can recommend to everyone (liking M3 of course). 5 stars out of 5

- by CasualGran
Since "7 Wonders - Treasures of Seven" is my very favorite M3 game (gotta love the board that flips) I had to try this one. I love zen mode, because I hate timers (the only drawback to the earier games in the series) and I wish they would bring this game out for the iPad - that's a much better "fit" than all the HOGs they release for it (if I can't see the items on my desktop, how can I see them on the iPad?)

This is a great series, and I will be purchasing this one!

- by sinshack
Fabulous, absolutely fabulous. As with the other 7 Wonders such a great game to play and to watch the characters at the bottom of the screen can become a little distracting...too funny. There are many bonuses to help you beat the board and build each of your seven wonders. You can play timed or not which helps with those tough boards. Great game overall and All Access makes it that much better.

- by kcerqua
I played 7 Wonders 2 and enjoyed the game, but I think this one may have surpassed it. Everything about this game is excellent. The graphics, music and gameplay are all stellar.

This game is similar to the others, you build structures at legendary places like Atlantis and El Dorado by collecting blocks at each level. Where this game diverges is that in this one, you collect different resources, such as blocks, plants, and water when you match certain icons. Each site also give you a chance to get additional goodies like gold and statutes to add to your finished building.

If you liked the previous offerings in this series, you'll love this game. If you think that 3-match games are boring, check this one out; this game will probably change your mind.

- by Pumpkin1974
Related Games
If you like 7 Wonders: Magical Mystery Tour game, you may also like...