Adelantado Trilogy: Book One
Find riches and glory with Adelantado! in addicting Adelantado Trilogy: Book One Game
System Requirements
OS: Windows XP/Windows Vista/Windows 7
CPU: 1.2 GHz
RAM: 1024 MB
DirectX: 9.0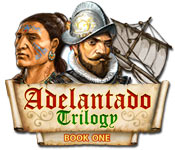 Adelantado Trilogy: Book One Game Description
Discover the fabulous secrets that a jungle hides in Adelantado Trilogy: Book One! Help the brave and noble officer, Don Diego De Leon, to find and save the lost expedition. Befriend the natives who can be of valuable assistance to you. Help them as you restore buildings, harvest foods, and create a settlement. Upgrade your skills and earn fabulous trophies. Treasures await you in this exciting Strategy game!
Adelantado Trilogy: Book One full version features include:
Vast level maps
Non-linear missions
Plentiful side-quests
Adelantado Trilogy: Book One Game Customer Reviews
Think of the game The Promised Land, and you will understand this game. There are two parts, each with 5 chapters. Difficulty levels are: Relaxed, Easy, Normal and Hard. You have to discover territory, save survivors, collect supplies, find treasure, get magic oratory stones to talk to the natives, and collect secret journal pages.

Only downside so far is that you cannot save in the middle of a level or all progress will be lost, and there is not (as of yet discovered) a full island map. I played for about 45 minutes when I decided to use a game credit and get the game.

- by 0Jade
A mix between Virtual Villagers and My Kingdom for the Princess, this game keeps you on your toes working hard, with the excitement of discovering new lands, clearing the fog and collecting resources. I knew I was going to buy this the minute I started playing it. A must-buy!

- by Sanderella
Great game. Along the lines of Westward series, you have to think of placement of buildings and how to accomplish goals before running out of resources and time.

Graphics are great, and I was pleasantly surprised by the length of game. There are 10 'chapters' to complete which have great replay value as there are various secrets to find in each chapter. If you like strategy games, try this one, it's recommended.

- by Vicki_S
I liked this game quite a bit. I wasn't sure at first but it got more interesting as I went along. It has elements of M.K.F.T.P, Island Tribe and Road to Rome etc. those types of build the village games which I love. The graphics are excellent and there is animation of the trees and such in the village. Lots of tasks to do, and extra things to find. Build watchtowers to increase the territory which is in cloudy fog until you do just like Island Tribe. I really liked this game and only played the first two chapters. The only thing that could have been better, was the people needed to move faster around the village. I wanted to play more of this but the trial ran out. Will most likely buy this game.

- by galet09
I had decided to purchase this game even before the 1 hour trial had expired! Great graphics; great music; great plot; hours of fun! Here's what I would have liked to see to make this a 5-star game: 1. a map to help you move from area to area, especially when there is more than one cave man hole; 2. an option to demolish property in order to build over it; 3. a trade center building option to allow you to quickly gather the items you need. All these would help to speed up the game at critical times. The game becomes a bit repetitive, especially after completing Part 1. Hint: be sure to scan the entire area with your cursor, especially in the trees and bushes, to locate key hidden items. Warehouses are a key to stroing supplies. Good luck "helping the natives to win their friendship" - while stealing their gold!

- by Smedley
Related Games
If you like Adelantado Trilogy: Book One game, you may also like...