Alex Hunter: Lord of the Mind
The city must be saved from a madman and his mind-control device! in addicting Alex Hunter: Lord of the Mind Game
System Requirements
OS: Windows XP/Windows Vista/Windows 7/Windows 8
CPU: 2.5 GHz
RAM: 1024 MB
DirectX: 9.0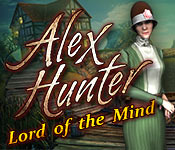 Alex Hunter: Lord of the Mind Game Description
Alex Hunter thought the case of the missing professor would be an easy paycheck. But his investigation has proven to be anything but simple. With hours of captivating game time, a richly detailed world, and a storyline inspired by classic detective novels, Alex Hunter: Lord of the Mind will thrill casual game fans looking for their next great adventure!
Alex Hunter: Lord of the Mind full version features include:
Rich, atmospheric world
Sherlock Holmes-style story
Cleverly designed puzzles
Challenging hidden object scenes
Play as private investigator Alex Hunter
Alex Hunter: Lord of the Mind Game Customer Reviews
I am so happy that one developer has not followed in ERS of Elephant foot steps in making the games too easy and child like. This is a game which an adult would enjoy! Graphics and voiceovers are great! Variety of puzzles, which I love. There is still a good amount of adventure. I would like a little less HOS, but were easy enough to quickly click on objects and continue with the adventure. I would have been willing to pay CE price for this game compared to the CE that have been coming out lately. More games like this please!!!

- by didersham
GREAT GAME...well, for me anyway...I haven't had so much fun playing a game like this in a long time. It seems to never end and I was able to get it for free! I am playing the bonus game now, and it goes on and on....more areas to explore than some regular CE games have. I am just loving this game. I am not one to explain all the ins and outs of a game...just play the trial and see if you like it...I was hooked right away....it is just my style...and I enjoy all the HOS in this one. Well...I am going back to play some more now. Hope you enjoy this as much as I am!!!

- by janniemst
This game is challenging, especially for those not gifted with math abilities. Some of the puzzles I just could not figure out and finally game up and skipped them. I went back and played it again and was able to figure out a couple more. In order to not use the map to figure out what you need to do next, you have to really remember every place you've been. What is really nice is the bonus chapter is as involved as the regular game. It takes quite a bit of time to solve the bonus chapter; not a quick run through like some other games. If you play the game in the expert mode, you have to really search for all the secret signs in order to unlock the secret chamber. I've played it twice, once on regular mode and once in expert mode. I could not find all the signs in expert mode so couldn't unlock the secret room. In regular mode, you don't need as many signs in order to unlock the room. I would highly recommend this game. It is challenging. The graphics are great, and the music fades into the background as you play it. It is not jarring like some games' music.

- by 30870437
This one has just about everything you could want. This is a hidden object/adventure combination that will keep your brain functioning. The graphics are as good as it gets. The scenes are drawn with many extra animated objects to keep you entertained. The HO scenes themselves are not difficult, although you do have to accomplish more than one step in order to acquire a lot of items. The mini games are great; not only are many of them quite unique, but they are also challenging and require a bit of time to complete. The interactive map is excellent. It tells you where you are, where there are tasks to be accomplished, where there are hidden signs you still have not found, and also takes you to your destination with one click of the mouse. There are many scenes in this game, so the map is particularly useful to prevent a lot of back-and-forth. There are four different game areas, so you don't get bored with the same scenes over and over. If you haven't tried this game, you really should. The story line keeps moving, and the ending is nicely wrapped up without being abrupt. The bonus chapter is as good as the story and provides additional entertainment. There is even a secret room to peruse for amusement once you have finished the game. You won't be bored here!

- by cat_in_rv
Related Games
If you like Alex Hunter: Lord of the Mind game, you may also like...