Avalon Legends Solitaire
Restore the Deck of Nature and save Avalon! in addicting Avalon Legends Solitaire Game
System Requirements
OS: Windows XP/Windows Vista/Windows 7/8
CPU: 1.0 GHz
RAM: 256 MB
DirectX: 9.0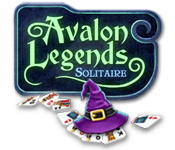 Avalon Legends Solitaire Game Description
The magical realm of Avalon needs your help! As a Druid, you can harness the power of the Deck of Nature to weave your spells. Open your mind, and take in the lush wilderness of Avalon as you first collect the cards, then arrange them in their correct order. Collect bonus cards and awards as you journey across the mist-shrouded land of Avalon to save its people from evil in this fun Card game! Become a hero in Avaolon Legends Solitaire!
Avalon Legends Solitaire full version features include:
Gripping gameplay
Exciting storyline
Restore the Deck of Nature!
200 levels, 13 awards to unlock, 12 power ups
Avalon Legends Solitaire Game Customer Reviews
Just bought it. I love the game. I usually play match-3 games, **** games from time to time, but this game plays so nice that I might add solitaire games to my favorite genres.

The art is very well done, music is very good (only on title screen and story). During play you hear birds, animals, wind, ambient sounds generally. It adds a lot to the game. There seems to be a lot of levels. 10 hands per level and 20 or more levels gives at least 200 levels.

OK, time to get back to the game. 5 stars.

- by James_Kit
i just love these types of card games. it is similar in play to fairway solitaire, fairy solitaire and a few others.

you are on a quest to recover some magic runes and along the way you have to accomplish different things to proceed (i didn't want to say what the first 2 were as i didn't want it to be a spoiler).

it looks like it will be a long game as you also collect magic cards and there are 52 in all, i was probably half way through the first quest before i received my first card. there are also wild cards that you can collect and use at any time plus there is a store where you can purchase bonus items. there are no voice overs, so you do need to read the story which makes it that much more interesting than just a plain old card game. the music so far is not too bad as i hardly knew it was playing lol.

the game play is similar to tripeaks which i just love. the graphics are not bad. all in all because i love this type of game i am going to give it. 4 stars of 5.

- by amj0963
Related Games
If you like Avalon Legends Solitaire game, you may also like...