Aveyond 2
Help Ean solve the mystery of his missing friend! in addicting Aveyond 2 Game
System Requirements
OS: Windows 98/ME/2000/XP/Vista
Memory: 128 MB
DirectX: 8.0 or later
CPU: P400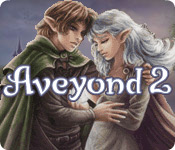 Aveyond 2 Game Description
Solve dozens of adventure puzzles and explore an enchanting world in Aveyond 2! To solve the mystery of his lost friend, Ean leaves the vale and travels to the dangerous Land of Man. Ean's adventure takes him through dark forests, arid deserts, and finally to a great mountain of ice where the answers to all of his questions await. And that is just the beginning! Accept your destiny and help Ean on the greatest quest of his life in Aveyond 2!
Aveyond 2 full version features include:
60 Adventure Puzzles To Complete!
Fight Monsters And Loot Them For Gold!
50 Magical Places To Explore!
Buy Grimm's Farm And Raise Pets!
Aveyond 2 Game Customer Reviews
Brilliant old-school RPG with a fantastic storyline and much improved game play! Aveyond 2 is definitely one of the top 5 games of 2007 and a must have for any RPG fan!

- by GameFairy
I have all the Aveyond games, and I enjoy them all. If you like RPG's, you will like this one. It reminds me of FF in SNES. (Not quite that quality, but very close.)

- by SueDee
If you are a fan of the classic turn-based adventure games, this one is a good bet. The graphics are obviously more basic, but I still very much enjoyed it. Lots of good quests, lots of exploring, and keeps your interest. You have MANY characters to choose from as you delve into the game. I highly recommend it.

- by N. Porter "Mother of 6"
Related Games
If you like Aveyond 2 game, you may also like...