Barrel Mania
Put barrels in their proper place. in addicting Barrel Mania Game
System Requirements
OS: Windows 2000/XP
Memory: 256 MB
CPU: P3 1.0GHz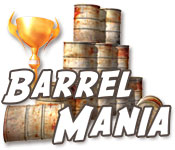 Barrel Mania Game Description
Something has gone terribly wrong at DCAE (Don't Care About Environment) Corp. The mainframe system responsible for safe handling and transport of volatile chemicals is down. There is only one person skillful enough to prevent catastrophe! You decide to get down to the laboratory and pick up some of the high-tech gadgets. Equipped with the latest technology and brains, you confidently enter the Barrel Mania zone!
Barrel Mania full version features include:
Play Huge Levels With Multiple Barrels!
Ultra-Realistic Game Physics!
Feel The Action With 3D Positional Sound!
Advanced Particle FX Engine!
Barrel Mania Game Customer Reviews
Finally a great game! Barrel Mania gets the brain working. It reminds me of Incredible Machine. Graphic is so amazing, lot of bright, vivid colors. No time limit to play the levels and possibility to finish the levels in many ways depending on how many stars you want to collect are fantastic features. A real addictive game and certainly well worth the purchase!!!

- by cyber977
If you like Eets then you will love this game since it is so similar and will get your brain working. The difference here of course is that you have to guide a toxic barrel past lots of obstacles to get it into the safe zone, Timing in some levels will play a role but sometimes it's not enough since a stray box could fall and block your path or a laser could blow up your toxic barrel. Overall this game has awesome graphics and good music that fits right in. Try this game out and I am sure you wont be able to stop.

- by eyeinthesky43
Related Games
If you like Barrel Mania game, you may also like...