Be a King
Be a King and create your empire! in addicting Be a King Game
System Requirements
OS: Windows XP/Vista
CPU: 1.2 GHz
RAM: 256 MB
DirectX: 8.0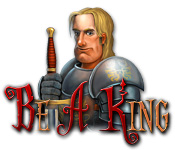 Be a King Game Description
Start off as a newly crowned prince and build your empire from the ground up! Create and maintain villages, towns, and even big cities, as you rule your land. Make life better for your people as you upgrade buildings and introduce new technology to improve the quality of life. Battle valiantly as you defend your minions from hordes of monsters and bandits in this Strategy game, and finally Be a King!
Be a King full version features include:
Train your own heroes
Defend your lieges
Can you Be a King?
Be a King Game Customer Reviews
This game is plays like Build a lot and looks like Forgotten Lands: First Colony. Buy materials, build buildings and upgrade them, just throw in Knights and monsters attacking. Each building does a lot of different things, so it is kind of confusing trying to earn more money, more food, what does the inn do? etc. I ran constantly low on money and materials, but the levels don't seem to have time limits, you just get a different trophy at the end.

- by Nahnia
This game is exactly like Build-a-lot, only completely different. If you like BAL series, you should like this one. Different tasks for each level, 2 maps/worlds to play. Good length. It's just kinda silly how all your towers/barracks only aim at 1 enemy at a time, instead of aiming at will so to speak. And I wish it was possible to turn off the adviser guy, it got annoying how his notices kept popping up.

- by Vimsen
Related Games
If you like Be a King game, you may also like...