Bridge to Another World: Alice in Shadowland Collector's Edition
Are you the true Alice? in addicting Bridge to Another World: Alice in Shadowland Collector's Edition Game
System Requirements
OS: Windows XP/Windows Vista/Windows 7/Windows 8/Windows 10
CPU: 1.0 GHz
RAM: 1024 MB
DirectX: 8.1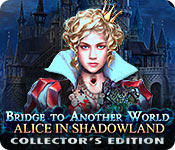 Bridge to Another World: Alice in Shadowland Collector's Edition Game Description
Big Fish Editor's Choice! This title was chosen for its high standard of quality and amazingly positive reviews from our Game Club beta testers.
4Friends Games invite you to explore another exciting realm in the next installment of the Bridge to Another World series!
You've just been kidnapped and brought to a curious place called Shadowland. The person who abducted you claims you are the beleaguered kingdom's prophesied savior. No pressure! All you want is to get back home, but when your shadow is stolen, you are suddenly trapped in Shadowland for better or worse. Now you must help a group of rebels fight a vindictive Princess and her cruel cronies. Are you up to the task? Find out in this wonderful Hidden Object Puzzle Adventure game!
Bridge to Another World: Alice in Shadowland Collector's Edition full version features include:
Journey to the past and attempt to thwart an evil plot in the bonus game!
Collect hidden playing cards and find morphing objects.
Need a clue? Check out the comprehensive strategy guide.
Earn a variety of unique achievements.
Includes wallpapers, soundtrack, concept art, and more!
Game Screenshots
(click on Bridge to Another World: Alice in Shadowland Collector's Edition game screenshots to zoom)
Bridge to Another World: Alice in Shadowland Collector's Edition Game Customer Reviews
So, I have spent all day playing this game - now on the Bonus Game - really enjoying it......... alas - all I got done today was 1 load of laundry and made lunch for the hubby (and supper as well)........

Really enjoying this game - no glitches (on win 8.1 32bit) - graphics & voice overs were awesome - hint and map system are perfect (when needed) and pretty quick to refill.

Really enjoyed this game. will go back and re-download the previous "Bridge to another world" games and re-play those.

- by judy76073
Hubby says "publish it quick!" I spent several minutes just looking at the intro page, the details were really fine. The wave motion was perfect, and what a pretty screen! What I really enjoyed about this game was the running story line and the interaction of the characters, it gave more reality. The graphics and the characters movements were top notch. The colors were nice jewel toned and not dark and foreboding.(boring) I look forward to more games like this from 4 Friends. You Guys rock!

- by Sarah, beta tester
Great adaptation of an original kids story I was raised with. Good fun with excellent map, help, graphics c\w nice story & adventure. The match-3 fight was a nice touch for me. Thank-you for this beta look-see play time. I'll look forward to the release.

- by Thomas, beta tester
This is a fantastic game with a creative plot loosely based on Alice in Wonderland. The rabbit for example is a man but you will recognize him instantly as The White Rabbit (won't tell you how since it'd be a spoiler). There are both collectibles and morphing objects, something I am not the greatest fan of but here you can see where to seek them on the map (rare in HOGs but not unheard of) AND you have a counter on the left side of the screen that tells you exactly how many collectibles there are left to find in this scene (wonderful!!!). I love Alice and have played lots of not so good games based on the book. This is a complete makeover and it is actually the best Alice game I've ever played on PC or Android. The HOS are not too many and there are so many other interactives that you do, from using a compass to find lost things to a watch that let you travel btw you and your.... (still don't want to spoil it). This game has a lot o never seen things in a game for sure!!!

- by Amijane
Related Games
If you like Bridge to Another World: Alice in Shadowland Collector's Edition game, you may also like...