Caribbean Treasures
Immerse yourself in a mysterious world of sunlit islands and puzzle action! in addicting Caribbean Treasures Game
System Requirements
OS: Windows 2000/XP/VISTA
Memory: 128 MB
DirectX: 7.0 or later
CPU: P600
Video: 3D Video Card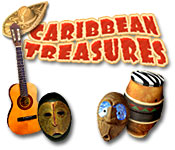 Caribbean Treasures Game Description
Enjoy an unforgettable time vacationing on beautiful Caribbean islands as a mysterious world of fast and furious puzzle action unfolds before you! Match shapes to clear the board and move on, through 100 terrific levels! Collect bonus items to awaken ancient souls like Mutunda and Bongo and choose to accept or decline their challenge to solve a bonus puzzle. Winners are rewarded, while losers are punished! It's a fresh and energetic take on your favorite puzzler. Discover Caribbean Treasures today!
Caribbean Treasures full version features include:
A Fresh And Energetic Match-3!
Over 100 Terrific Levels!
Fast And Furious Game Action!
Challenging Bonus Levels!
Caribbean Treasures Game Customer Reviews
Caribbean Treasures is a fun and exciting game to play. A great feature of Caribbean Treasures is you can make moves while other tiles are still falling. That keeps the game action at a blistering speed. The music and graphics are superb and give the game a great feel. Add to all that a mystery to solve and you've got one very addictive and exciting game in Caribbean Treasures!!!

- by Bob S.
I HAVE THIS GAME AND IT'S TRUE, ONE OF THE BEST GAMES I'VE EVER PLAYED. BETTER THAN ANY OTHER PUZZLE.

- by R22D22
This is a very good game, a treasure, I can play it for hours. It is like BKR but when you finish it, YOU WILL DISCOVER A GREAT SECRET, A SURPRISE!!!!. As Clever sayd, the music is very very bad...

- by Perrodehabas
Related Games
If you like Caribbean Treasures game, you may also like...