Charma: The Land of Enchantment
Help the fluffy Charmies break an evil spell! in addicting Charma: The Land of Enchantment Game
System Requirements
OS: Windows XP, Windows Vista
Memory: 128 MB
DirectX: 7.0 or later
CPU: P600
Video: 16MB Video Card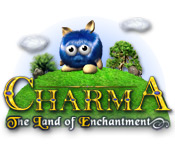 Charma: The Land of Enchantment Game Description
Help the fluffy inhabitants of the land of Charma break an evil spell in this original puzzle challenge! A malicious magician has scorched the home of the Charmies, leaving it a wasteland of fire and lava. Match up these colorful fur balls and guide them through forest and desert, swamp and snow on their path to restore their homeland! Featuring unique gameplay, loveable characters, and hours of matching fun, Charma is a colorful challenge for the whole family!
Charma: The Land of Enchantment full version features include:
Save The Charmies!
Loads Of Challenging Levels!
Fluffy, Adorable Characters!
Unique Gameplay!
Charma: The Land of Enchantment Game Customer Reviews
I got through the whole hour-long demo in... well, in an hour. But it was a throughly entertaining hour. Unlike other "shoot the ball into the spot, match three, destroy the ball" games, this one you just swap pieces with each other. Which leads to entertaining gameplay, because it's not the same ol' thing you're used too.

- by Alorwin
This game was really good the graphics were realistic the sound was good but I didnt like the wy it was played I would rather have it played like Zuma or something along the lines of that other than that the game was really good.

- by Imdumbyey
This game is a mix of a few games. It has the music and graphics of Sparkle, and the characters of Chuzzle Deluxe. It also adds originality with a new swap three game play. You can swap with pieces all the way across the board. This game is addictive and fun.

- by SlobberMonkey
Related Games
If you like Charma: The Land of Enchantment game, you may also like...