Chloe's Dream Resort
Fix up the Dream Land Resorts! in addicting Chloe's Dream Resort Game
System Requirements
OS: Windows XP/Vista
CPU: 1.0 GHz
RAM: 1024 MB
DirectX: 9.0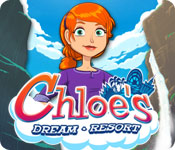 Chloe's Dream Resort Game Description
Fix up the Dream Land Resorts and scare away the monsters that are terrifying the customers in Chloe's Dream Resort! Reopen a ski lodge, a beach hotel, and even a grand casino in this exciting Time Management game. Help your customers ski, surf, dance, and even learn magic tricks. Save the Dream Land Resorts and turn a tidy profit in Chloe's Dream Resort!
Chloe's Dream Resort full version features include:
Fix them up and scare away pesky monsters in 60 fun challenges.
Restore resorts for a good night's sleep in this entertaining Time Management escapade
Cater to customers and help them ski, surf, dance, and more.
Earn unique resort and character upgrades while playing fun mini-games.
Chloe's Dream Resort Game Customer Reviews
I like this game. More challenging but not too much. Somewhat different than the usual time management games but thats one of the best things about it.

- by Shazza25
This is a fantastic time management game! The graphics are adorable. Each of the characters has a unique look, and the environments are all cute. The gameplay is great. You must serve customers in various resort areas by feeding them, bringing them newspapers, putting them in the hot tub, etc. When customers are in a particular area, they sometimes ask for services or items (like food), which adds to your score. Like in other time management games, different customers have different attitudes and levels of patience, so you have to plan accordingly. I love how smoothly the game works while moving around customers. It's never a pain to try and get them where they need to be. Additionally, there are a few minigames to play in order to upgrade your resort. You can also purchase upgrades which help to bring in more cash. While there is somewhat of a time limit, I didn't really find this game particularly stressful, like some other time management games can get. My only "gripe" is that I wish this game had trophies! Still, that doesn't change the gameplay, so no stars off for that!

- by Imberis
I love time management games, and this one had me completely hooked! The story is cute, the characters are fun to watch, and the activities involved are just different enough in each level to stay interesting while not changing so much to become too challenging. While the first few levels might be a bit easy the final few took me several tries to get Expert. This was a very fun game!

- by Motsysh
Cute game! You're having to work in a resort and help people so when they wake up they have a good dream. For me, I would reccomend it for any age. Catchy music and good graphics, I definitely reccommend buying it if you don't have All Access. And the game is easy in the beginning but once you go to a new level, it starts to get harder and harder.

- by Anonymous
This is a different spin on the typical time management game. It's more challenging than most and it introduces a different story scenario. I really enjoyed playing this.

- by 40ozLiz
Related Games
If you like Chloe's Dream Resort game, you may also like...