Coyote's Tale: Fire and Water
Challenge the Gods in this apocalyptic adventure! in addicting Coyote's Tale: Fire and Water Game
System Requirements
OS: Windows XP, Windows Vista
Memory: 512 MB
DirectX: 8
CPU: 1GHZ
Video: 32MB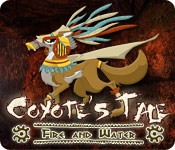 Coyote's Tale: Fire and Water Game Description
Two sisters are about to go on the strangest vacation of their lives, as the mischievous Aztec gods of Mexico strive to make life difficult for the human race. With Coyote, the god of story telling as your guide, challenge 15 Aztec gods and collect hidden items in attempts to stop the world from falling into chaos. However, the gods aren't your only problem. As you progress, you will have to face an even more dangerous opponent. Betrayal...
Coyote's Tale: Fire and Water full version features include:
Explore Picturesque Aztec Environments!
Collect Powerful Ancient Artifacts!
17 Exciting Mini Games!
Save The World!
Coyote's Tale: Fire and Water Game Customer Reviews
I really enjoyed this game. The graphics are good, and the music did not drive me bonkers. The characters and their dialogs are a little goofy, but not bad enough to distract from the game. The hidden object puzzles are easy at first, but they get progressively more difficult. The mini games are challenging. I spent half my trial trying to solve one before I noticed I could skip it LOL!! I am definately considering purchasing this one.

- by Anonymous
I enjoyed this game- the story line, sounds and graphics are great. Some items are a bit hard to spot but you get plenty of hints. The mini games are fun to figure out. This is one of those games you want to play to the end.

- by funkat
I loved this game. True that it is fairly easy for those who are not new to this type of game, But you can play timed or untimed. A good way for newbees to relax and enjoy and for those more seasoned, there are the mini games which are different than most. I say, give it a try.

- by dthieman
Related Games
If you like Coyote's Tale: Fire and Water game, you may also like...