Fantasy Mosaics
Complete nonogram puzzles to restore a beautiful fantasy garden! in addicting Fantasy Mosaics Game
System Requirements
OS: Windows XP/Windows Vista/Windows 7/Windows 8
CPU: 1.6 GHz
RAM: 1024 MB
DirectX: 8.0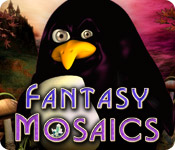 Fantasy Mosaics Game Description
Embark on a fantasy journey to distant lands and experience this new and exciting collection of mosaic puzzles through 100 custom built levels. Brimming with even more challenging puzzles and power-ups, Fantasy Mosaics will take you to new heights on this magical adventure. Enjoy the journey and have fun building your fantasy garden!
Fantasy Mosaics full version features include:
100 custom built puzzles
Breathtaking locations
A unique fantasy atmosphere
Fantasy Mosaics Game Customer Reviews
LOVED IT! For those that like this kind of game will really enjoy it. The creators developed a new gift for us: when you complete a row it fills automatically and save us a lot of work. I tried demo and immediatelly bought it and cant stop playing. It is very funny. I recommend and recommend and recommend... Congratulations!!!

- by jil1
I usually get all the mosaic games but this one is by far my favorite. the auto fill of blanks is great. It also gives you extra hints by lining out even numbers whose blocks are not surrounded by fills. Given that, what I like best is the level of challenge. It doesn't go insanely difficult. It is a nice mix of easy and difficult so I can come back at any time for a quick mosaic fix.

- by LPERM
Mosaics are my favorite games & have played all I can fiind - love this one !! It gives you enough mistakes if you want although die hard players must play each puzzle until no mistakes are made - you know who you are ! There is a lovely Japanese garden at the end of each level to which items are added. The cursor does not stay on the line as well as some other games when you are pulling it across (my only concern) & I am off to buy.

- by maryday
I am finding these mosiace my favorite puzzlegames, and this is a must have! The graphics are bright and beautiful, I don't listen to games but I am assuming it is well done also. The gameplay is typical to these type games, except their is no catagory just a collection of pictures. Overall another great mosaic puzzle collection.

- by pdmorrison
Related Games
If you like Fantasy Mosaics game, you may also like...