Flip Words 2
Play the sequel to one of the best selling word games of all time! in addicting Flip Words 2 Game
System Requirements
OS: Windows 2000/XP/Vista
Memory: 128 MB
CPU: P500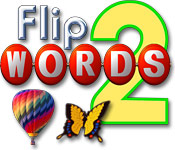 Flip Words 2 Game Description
Click letters to make words and solve thousands of familiar phrases in this exciting sequel to Flip Words--one of most addictive words games around! Test your skills in "Classic" mode and, for an intriguing change of pace, try the new "Strategy" mode where you earn and spend tokens to help you solve the phrase. Or, try your luck on-line in the exciting new multiplayer "Party" mode where you can play cooperatively with up to three other players for medals and high scores. You'll flip for Flip Words 2!
Flip Words 2 full version features include:
Flip For Flip Words 2!
Numerous Visual Themes!
Play Classic, Strategy Or Party Mode!
Create Your Own Phrases!
Flip Words 2 Game Customer Reviews
The object of the game is to solve the hidden phrase (like Wheel of Fortune). You make words from a grid of letters and the first letter of the word you make will be revealed if it's in the phrase. The best part is that the game can automatically download new phrases every time you play! This way, you are always getting new phrases. You can even create your own phrases if you are into that. The graphics are nice and you can actually change the look of the game by selecting different "themes". Overall, a fun and addictive word game.

- by B Parker
i've been playing Flip Words for quite a while now and find it enjoyable and addictive and always 'fresh'. i agree that sometimes i know a word (not even a hard one) and they don't have it listed. that's weird. but overall this game will bring you lots of enjoyment for a long time to come.

- by dnta
I love this game!! I had to turn on the timer yesterday to make sure I wasn't late to an appointment. It keeps you thinking and challenging yourself do find different words and go longer. Highly reccomended!

- by Arti
Related Games
If you like Flip Words 2 game, you may also like...