Forgotten Lands: First Colony
Lead your settlers to a new home. in addicting Forgotten Lands: First Colony Game
System Requirements
OS: Windows XP/Vista/7/8
CPU: 600 Mhz
RAM: 128 MB
DirectX: 9.0
Hard Drive: 55 MB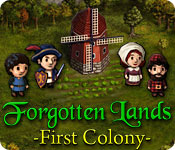 Forgotten Lands: First Colony Game Description
The good people of Greensville have chosen you as their leader in the fun new game Forgotten Lands: First Colony. For nearly a century, the place you have called home has provided for all of your civilization's needs. As all of your resources are nearing depletion, it's time for you to step forward and lead the people to a new home. Establish buildings, train workers and grow your new home to a prosperous place where your civilization can flourish.
Forgotten Lands: First Colony full version features include:
Upgrade buildings
Train many different settlers
Cute characters and art
Forgotten Lands: First Colony Game Customer Reviews
I'm still not sure exactly why, but I love this game. It was challenging without being impossible and new features were integrated very smoothly. The graphics may not be awe-inspiring, but they're still cute. It didn't run in full screen on my computer (don't know if that's just me) but I really didn't care. It wasn't repetitive and it was surprisingly different than I was expecting. I thoroughly enjoyed this one!

- by jmday
This game really focus on an RTS gameplay component, which is the resource gathering and building/troop upgrades. The levels are challenging but still playable, each new features is introduced gradually to ease you in and it makes you think really hard on how to be effective and efficient to finish the level on time. Ive started replaying some of the levels that I have not achieved gold flags yet. And the bonus stages are also a welcome addition. Great game all around!

- by john907
I've been playing this for 10 hrs now and still struggling to have expert score on the last bonus level. I promise you'll not be bored for a single minute. A great strategy game, cute graphics, more than a casual game. I do wish there will be one or more sequels to this. Thumbs up!

- by tekirpitir
Related Games
If you like Forgotten Lands: First Colony game, you may also like...