Haiku Journey
Puzzling haikus for you. in addicting Haiku Journey Game
System Requirements
OS: Windows 2000/XP/VISTA/7/8
CPU: 600MHz or faster Processor
RAM: 128 MB
DirectX: 6.0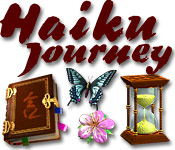 Haiku Journey Game Description
Create words by linking letters to release the butterflies that fill in a poet's ancient haiku word puzzle for you to solve. Earn special bonuses that will help you along the way. Solve the haiku and progress on your journey to the ultimate destination of Mount Fuji.
Haiku Journey full version features include:
10 landmark backgrounds.
2 gameplay modes.
10 ranks to progress through.
Haiku Journey Game Customer Reviews
Haiku Journey, what a wonderful game. The graphics are gorgeous, the music is amazing, the haiku journey is tranquil and the puzzles are challenging. I bow to the Haiku Journey Masters.

- by AmandaH
Haiku Journey showcases a novel theme that needs a few more elements to raise it from a decent game to an extremely good one. As it is, Haiku Journey is a well-executed word puzzler with some intriguing poetry. It is certainly worth a try for anyone who is curious about Japanese culture or who enjoyed poetry in school. However, even those who cannot get enough of rearranging letters into words will find themselves wanting a bit more by the end.

- by Edward Zuk
Beautiful graphics and fun gameplay. Very addictive! I noticed a big glitch, though; occasionally it took several takes to get it to register a word entered. What words the game accepted and didn't accept was random and puzzling, as well.

- by jaylee1204
Related Games
If you like Haiku Journey game, you may also like...