Hidden Wonders of the Depths
Welcome to a magical underwater world! in addicting Hidden Wonders of the Depths Game
System Requirements
OS: Windows 2000/XP/Vista
Memory: 128 MB
DirectX: 8.0 or later
CPU: P600
Video: 32MB Video Card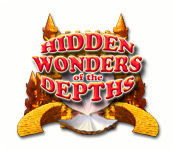 Hidden Wonders of the Depths Game Description
Hidden Wonders of the Depths is a new and exciting action puzzle which combines unique match-3, mahjong, collapse and hidden object game elements with more than 210 delightfully aquatic levels! Explore the underwater realm, while finding the hidden treasures and getting acquainted with its intriguing inhabitants! Find hidden puzzle pieces to generate magic cards, each with its own special power-up abilities! Welcome to this magical, wonderful world!
Hidden Wonders of the Depths full version features include:
More Than 210 Fantastic Levels!
10 Underwater Inhabitants To Unlock!
Intriguing Hidden Object Bonus Levels!
5 Picturesque Scenes!
Hidden Wonders of the Depths Game Customer Reviews
I am a big fan of games that get more challenging as they progress. I have had this game for 4 months and still have not reached the last level and I play it 3 or 4 nights a week. If you dont complete each level within the time allowed you have to start the level over. Currently I am on level 28. I have certainly got my monies worth from this game, just as I have with other favorites like the Jewel Quest series

- by barbterwill
Great fun! I loved it, and keep replaying it constantly. some tough levels to pass especially level 17-6. Great replay value though. I don't regret buying it. Nice colours in the graphic too, I would recommend it.

- by Nyoka
I love the variety in it and the smooth game play. Getting the crab to move around the match 3 board on a path was an original idea. The hidden object games are also differently done. You have to find a lot of the same type stuff in a short time.

- by PerfectJewel
Related Games
If you like Hidden Wonders of the Depths game, you may also like...