Hodgepodge Hollow
Travel to Hodgepodge Hollow! in addicting Hodgepodge Hollow Game
System Requirements
OS: Windows XP/Vista
CPU: 600 Mhz
RAM: 256 MB
DirectX: 9.0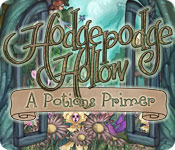 Hodgepodge Hollow Game Description
Travel to Hodgepodge Hollow and learn the time-honored profession of magical potion creation in this fun Hidden Object game! Collect hidden ingredients and recipes and solve vexing puzzles using your newly acquired potion making skills. You'll have the adventure of a lifetime helping your gnome teacher recover his lost treasure from those thieving dragons!
Hodgepodge Hollow full version features include:
Gorgeous scenes
Incredible storyline
Travel to Hodgepodge Hollow!
Hodgepodge Hollow Game Customer Reviews
Some might consider this a child's game, but I consider it more of a simple game for adults. The graphics are beautiful, the music pleasant, and the hidden objects fairly easy to find, although not all of them. :-) I only played the demo hour but am pleased enough to put this on my to buy list!

- by CelticCoco
A charming game with wonderful graphics that remind me of an illustrated version of Tolkien's Hobbit stories. No, the hidden objects are not grueling to find, as others have noted, yet at the same time they are cleverly hidden by altering the color of the object, e.g, a unicorn or a sprite, so that it blends in with the background. Silly as it may seem, I enjoyed playing wizard by mixing up the potions with ingredients acquired on my "travels" through the fairytale realm. I even had an explosion with the first potion because I didn't follow the directions carefully. This is a relaxing HO game, so super-sleuth gamers may find it much too tame. But when life is already stressful, this is a good way to unwind. A great game for kids to play, especially those interested in fantasy and wizard tales. Performing the spells is an excellent way to reinforce their reading and interpretation skills while indulging their dreams of studying at Hogwarts school of magic.

- by infinity
I was really young when the Hobbit books by Tolkien became cult classics, and this beautifully drawn world is how I pictured it. Unlike the brutal movies, this game is whimsical, with hidden objects of a fantasy land often shaded to match the background, yet hiding in plain sight. If you're a hard-core HO gamer who likes tough challenges, this may be too tame from that perspective. And yet you could fall under the enchantment of this world.

My favorite parts of the game are the magical journeys and special tasks in search of ingredients to be used in making potions in a gnome workshop. But be careful, or the potion will explode. (Yep, you've got to follow instructions.) And that part makes it fun for those of us with a secret wish to be wizards-in-training at Hogwart's School of Magic, no matter our current age.

Good game for kids because of the beautiful artwork, storyline, and various cognitive skills used, including reading and following directions in mixing the potions. But this is a low intensity game, not high intensity. As always, try it first. Kids and their interests vary. (Just like adults.)

- by sereneorchid
What a pleasant game.I was so ready for calm, pleasant music and retreat from the daily bad news and a glut of violent and spooky games.

I'm 68 years old and if this is in a child's catagory, then bring my cookies and a glass of milk and let me play until my bedtime. :) Cmon folks, play and enjoy a little fantasy.

- by godmothermc
If you're at all a fan of fairy art a La Froud, you'll like this one. The style's different and entertaining. The plot's cute too. It's easy but entertaining. There's a lot of repetition in the areas but most scenes go by pretty fast. (There tends to be a lot of find 20 butterflies rather than find 12 random objects on a list) Which is actually a form of HOG I really enjoy. This game's really like eating potato chips. The scenes go by so fast you're always ready for one more. Beyond the potion minigame and a few puzzles this one's really all about HO scenes with very little filler.

- by ToketsuPuurin
Related Games
If you like Hodgepodge Hollow game, you may also like...