Hotel Mogul
Manage real estate and make a profit to help Lynette buy back her family business! in addicting Hotel Mogul Game
System Requirements
OS: Windows 98/2000/XP/Vista
1 GHz or pfaster processor
512 MB RAM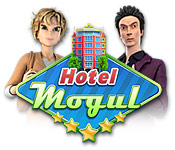 Hotel Mogul Game Description
Hotel Mogul will have you laughing all the way to the bank! Use your business savvy to help Lynette buy back her family business from a conniving partner! Strategically acquire, develop, and sell commercial properties. Purchase materials and hire workers to construct awesome attractions. Manage your resources well to make a profit!
Hotel Mogul full version features include:
5 exotic settings
35 levels
4 mini-games
Six kinds of hotels
Hotel Mogul Game Customer Reviews
Interesting story about how to get back at your ex:) - loved every minute of it! But the game on the other hand ... Build a Lot in every way. I liked it (since there's no new build a lot:) and i do think it's one of the good ones, just not very original... I also liked the fact that it's not really that simple to get an expert score - that's a giant plus from me, because i like to be challenged!

- by nejcha
I enjoyed the backgrounds on this game, and the interactive houses, ie: the amusement park. The challenges were definately attainable, I have gotten gold stars on most levels. I would recommend this to anyone that is addicted to building games like I am, it's fun and enjoyable, not much stress like other games.

- by Dakota77
this game was awesome it had great sound,graphics and a suburb game play.you should definnetly buy it ,its worth the money.this game is the best ive played yet.

- by salmer778
Related Games
If you like Hotel Mogul game, you may also like...