Magic Match Adventures
Restore the imp villages in this magical puzzle adventure! in addicting Magic Match Adventures Game
System Requirements
OS: Windows 2000, Windows XP, Windows Vista
Memory: 512 MB
DirectX: 8.0 or later
CPU: P 1.0GHz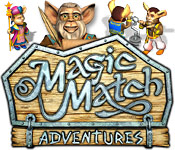 Magic Match Adventures Game Description
Magic Match Adventures takes the addictive Magic Match gameplay and pairs it with a unique simulation where each match you create will not only give you special powers and magic spells, but will help repair the imp villages and restore peace and tranquility across the realm. This fully animated adventure and zany story will come to life before your eyes as you play! Match your way through this adventure and watch as characters survive and thrive in their newly restored Imp World!
Magic Match Adventures full version features include:
Save The Villages Of Earth, Air And Water!
60 Magic Realm Levels!
4 Challenging Wizard Duels!
7 New Power-Ups!
Magic Match Adventures Game Customer Reviews
Magic Match Adventures brings a few new things to the matching arena with the duel, helping the imps, and different rules from a typical matching game. Players have plenty of chances to put strategies to work. If you'd rather have fun and not think too much, it's possible to succeed -- it just may take longer. To paraphrase the opening song, Magic Match and matching game fans will enjoy the Imp World and its great wondrous land. They await you to give them a hand.

- by Gamezebo
A very clever twist on an already addictive match-3 puzzle game.

- by Spinny
...The basic fundamentals behind Magic Match Adventures still borrows from the "match three" genre, and while some things are the same (pieces frozen temporarily or locked pieces you have to destroy first) there are some differences. When you go into the Magic Realm, you are presented with a board positioned like a diamond rather than a square like you'd usually find; you wouldn't think slightly shifting a board would be a big deal, but it actually makes you think a little harder about how to find matches, and overall makes the game much more difficult from the get-go than other games cut from the same fabric...

...Magic Match Adventures suffers from a horribly generic name, and so going into the game we didn't think we'd find too much to like, but luckily for us we found a wonderful little game that spins a quaint little world mixed with gameplay that is both basic and yet complex at the same time, making sure that it's challenging enough to keep players playing all the way to the very end.

- by thankeeka
Related Games
If you like Magic Match Adventures game, you may also like...