The Magician's Handbook: Cursed Valley
Find objects and learn spells in this beautifully painted puzzler! in addicting The Magician's Handbook: Cursed Valley Game
System Requirements
OS: Windows 2000/XP/VISTA
Memory: 64 MB
DirectX: 6.0 or later
CPU: P500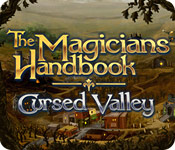 The Magician's Handbook: Cursed Valley Game Description
The mysterious Magician's Handbook has fallen into your hands, thrusting you into the heart of an ill-fated land. Unique magical creatures and almost a thousand hidden objects await you in this beautifully painted puzzler! There are 13 enchanted chapters to explore, along with a host of challenging mini-games, and you can unlock secret items by collecting hidden magician coins! Can you discover the secrets of Cursed Valley before the dark curse claims you as another of its victims?
The Magician's Handbook: Cursed Valley full version features include:
13 Enchanted Chapters!
Seek And Find In Beautiful Hand-Painted Levels!
Challenging Mini-Games!
Pages Of Engaging Story!
The Magician's Handbook: Cursed Valley Game Customer Reviews
I much preferred this to any of the other magic-themed seek-and-find games. Although not as good as the classic Mystery Case Files games, this is still a solid addition to the genre and fun to play. Challenging without being frustrating, and with a fun story.

- by DaisyTighfield
I put this game off for awhile due to there being so many of this type now, but I am glad that I finally played The Magician's Handbook: Cursed Valley! I loved everything about this game except that I had such a hard time finding the Runes in the end. I had to cheat and look for advice from other people! (You will probably do the same!) The sound effects and music are great, enough to mute my TV and turn the volume up. The objects aren't always easy to find. The story in itself was a nice read and follow, and the graphics are nice for the most part. Some items are blurry or don't quite look like what you think they should, but other than that, this game is quite the step up from some other Seek & Find's I have recently played. Anyway, I definitely recommend this game to anyone and everyone! Happy searching!

- by gnarxsar
Related Games
If you like The Magician's Handbook: Cursed Valley game, you may also like...