Mahjongg Investigations: Under Suspicion
Become a Master Detective in this Mahjongg Whodunit! in addicting Mahjongg Investigations: Under Suspicion Game
System Requirements
OS: Windows 2000, Windows XP, Windows Vista
Memory: 256 MB
CPU: P3 800
Video: 32MB Video Card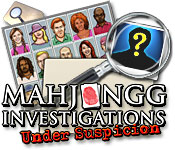 Mahjongg Investigations: Under Suspicion Game Description
Organized crime is taking over Metro City! As a detective in the 83rd precinct, use your Mahjongg skills to unearth clues and bring the criminals to justice! Investigate a vast cityscape with more than 20 locations where you'll collect and match evidence tiles to pinpoint perpetrators. Special clue tiles reveal hidden information and mini-games throughout allow you to interrogate, analyze, and close the case! Build your career as you make the streets safe for the good people of Metro City!
Mahjongg Investigations: Under Suspicion full version features include:
Escalating Crime Complexity!
Vast Cityscape With More Than 20 Locations!
Multiple Mini-Games!
5 Different Specialty Tiles!
Mahjongg Investigations: Under Suspicion Game Customer Reviews
I love this game, play it over and over and never tire of it. It does take some thinking on exactly which pieces to remove. It is time played and should have a pause system installed with the program, it would help especially when the phone rings or the doorbell rings. Great game for all, including kids.

- by mednana
I am one of those who have Not Interested checked everytime I see a Mahjongg game, but when I saw the screenies for this I had to try it! This game is sooo fun I spent hours playing it. First you begin with case brief then off to the a Mahjongg board in which you try to gain as much info on the suspects by matching special tiles. As you gain info you can start narrowing down suspect by using the clues or if you are not sure you can interrogate them in which you begin a memory game (there are a few different layouts)depending on how many matches you get you will get some more details on your suspect or if you're lucky and match them all they will confess to the crime if guilty! You can also try the "tetris" DNA option to see if theirs is a match (if you found DNA tiles). Don't worry there are more locations to gather clues from. As the game goes on you get more criminals per case which makes it a little more challenging. I highly recommend this to anyone even if you don't like Mahjongg!

- by MIWHALKI
Related Games
If you like Mahjongg Investigations: Under Suspicion game, you may also like...