The Mirror Mysteries
Can you solve the Mirror Mysteries? in addicting The Mirror Mysteries Game
System Requirements
OS: Windows XP/Vista
CPU: 1.0 GHz
RAM: 512 MB
DirectX: 8.1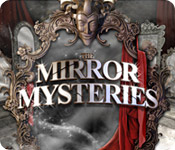 The Mirror Mysteries Game Description
A young family stops at a mysterious old home for a picnic. As the mother closes her eyes to enjoy the sun, she hears a horrific crash...the kids! As she enters the house, she is confronted by a mystical mirror that has taken her kids and locked them away in a magical world. A quest is placed upon you to not only save the children, but help a unique character in very mystical places. Can you solve the Mirror Mysteries?
The Mirror Mysteries full version features include:
Dark mystery
Immersive atmosphere
Find the children!
The Mirror Mysteries Game Customer Reviews
Great game! Smooth play, not too much dialog, audio was very subtle. I really like task-driven Hidden Object Games, and this is a good one. In the interest of time, the recharging hint comes in handy for the trial hour, but probably wouldn't be needed otherwise. GOGI came through again. Definitely give this one a try.

- by sil067
in my opinion, this is a fantastic game. The gameplay is quite similar to Mortimer Becket games. At start, i had in mind, some kind of detective game with a aspect of hidden objects. But it was nothing like that a bit repetitive in gameplay and no mystery at all. Apart from that aspect, it the graphics and sound was great.

- by sophiependragon
Not so great voice acting (actually rather annoying; I would have preferred an option to turn it off) & WAY too much "hand-holding" (shows you exactly what & where to place everything). That being said, the story, graphics & mechanics were outstanding. This could have been a VERY good game, and a bit more challenging (I like them harder rather than easier), if they would have just omitted the object outlines for placing the items (the "sparkles" were fine, they just should have let you figure out what went in which location), used better (or omitted) the voice acting & had an option for a timed game - this would have made it a truly great game. Worth purchasing? I'd say yes because it really is a well-made, mostly fun game. Not great, but really pretty good.

- by cakefordinner
Related Games
If you like The Mirror Mysteries game, you may also like...