My Life Story
Pursue the career of your dreams! in addicting My Life Story Game
System Requirements
OS: Windows XP/Vista/7/8
CPU: 1.0 GHz
RAM: 512 MB
DirectX: 9.0
Hard Drive: 54 MB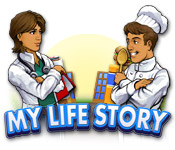 My Life Story Game Description
Survive the ordeals of modern day life as you strive toward the career of your dreams in My Life Story, a fun Builder game! As a recent high school graduate living in your parents' basement, life is just getting started. It's time to find a job, move into an apartment and work your way through the collegiate ranks. As you explore the town, you'll uncover special events, intriguing encounters and even home furnishings that improve your weekend.
My Life Story full version features include:
Quirky characters
Dozens of jobs to choose from
Find the career of your dreams
My Life Story Game Customer Reviews
Absolutely loving it - have been playing for the last 5 hours non stop! Simple to play yet interesting and challenging! Point and click gameplay could not be easier but each click has consequences at every fork in the road - so to speak. I'm in!!

- by Whizzbangw
When I first started playing the game, I wasn't sure it was gonna be all that great. As I worked my way through the first half of the trial, it started getting more difficult to achieve a goal, and therefore more fun to keep playing! It's similar to the SIMS games in that you have to keep your happiness up (which includes hunger, health, energy, and fun), but on the other hand, its different as you are ALWAYS doing something! I give it 5 overall stars!

- by crystallamadline
very fun game.. its like living on your own and looking for a job paying pills and going to college. fun game. time mangement game. would suggest you to play!

- by Dancer8412
I really like this game a lot! It's fun, and easy to play. I had to try to memorize of which places in the game has the best benefit in order to use the reward cards. I recommend this one!

- by spunky39
I had a great night last night - 4 or 5 games I tried and ended up loving (and buying all of them). Believe me, this is not always the case. The other day I tried 6 games and hated every one of them. This is a cool game similar to Life Quest. I think this one actually came out first. The gameplay is really similar although I think I prefer the neighborhood layout in this one. You don't seem to have the timer for quests in this one, but it's in your best interests not to waste too much time. Seems like a good game and not your standard TM game.

- by Diskette66
Related Games
If you like My Life Story game, you may also like...