Mystery Trackers: The Void
Explore the Void family mansion! in addicting Mystery Trackers: The Void Game
System Requirements
OS: Windows XP/Vista
CPU: 1.2 GHz
RAM: 512 MB
DirectX: 9.0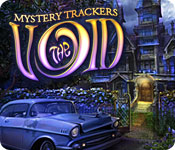 Mystery Trackers: The Void Game Description
The Void family mansion used to be a gorgeous home, until Dr. Malleus Void inherited it. Legend has it that the creepy doctor spent his time doing terrible experiments in the home, and it has been abandoned for an entire decade. After 3 world famous celebrities go missing inside the house, it's up to the Mystery Trackers to go inside the house, and solve its mysteries once and for all in Mystery Trackers: The Void!
Mystery Trackers: The Void full version features include:
Gorgeous graphics
Incredible storyline
For a more in depth experience, check out theCollector's Edition
Mystery Trackers: The Void Game Customer Reviews
YEAH!!! What a fun, fun game! Going to admit that I mainly clicked through the hidden object scenes (never my favorite part of a game and NO penalties for random clicking - thank you for that). The story was interesting and engrossing. The adventure part of the game was very well done without being too difficult but somehow you didn't really feel like it should have been harder the gameplay felt just right. The game really drew you in and who minded looking for inventory items when there was a real life feel to the search. My favorite game of the year so far and its going to be hard to top. Kudos to the developers. I can't really say a negative word about this one.

- by thiskidsdun
I have played about 25 minutes and am very pleased with the play so far. Graphics are good, music/sound is tolerable, hidden objects not small and are fairly easy to find. The few puzzles that I have played were simple enough yet made you think a bit.. Unless something goes awry in the next 30 minutes this will definitely be a buy for me! Hope you enjoy the game.

- by casuziq
I just finished playing this game and it was a blast! I loved the story line. Some times I find those at either end of the spectrum - either really boring or really farfetched, so it either bores me or makes me indifferent. The graphics are great - crisp and clear and the music plays nicely in the background and doesn't overpower the game. There are lots and lots of mini games alongside the hidden object scenes. A good indication of how into the game I am is how many hints I use or puzzles I skip but I didn't use one hint or skip one puzzle through the whole game. Do I get a special prize for that? This game is long, too, and was definitely worth buying.

- by coolest_mommy
Related Games
If you like Mystery Trackers: The Void game, you may also like...