Mystic Palace Slots
Get a taste of the Mystic Palace! in addicting Mystic Palace Slots Game
System Requirements
OS: Windows XP/Vista/8
CPU: 1.0 GHz
RAM: 256 MB
DirectX: 9.0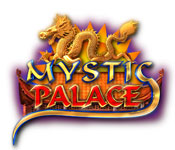 Mystic Palace Slots Game Description
Get a taste of the orient in Mystic Palace Slots, an innovative and amazing Slots game! Watch the reels and win big! Unlock incredible achievements as you earn more and more fortunes! Play through awesome minigames and bonus rounds to get even bigger payouts as you experience all the fun of Mystic Palace Slots!
Mystic Palace Slots full version features include:
Master the bonus rounds
Get a taste of the orient
Visit the Mystic Palace!
Mystic Palace Slots Game Customer Reviews
I like the "idea" of playing slot machines, but every time I go to Atlantic City and play them, I quickly lose my money and the glamor of them disappears. One thing good about playing slots on the computer is that you always have enough money to play - lol. But even with that, most slot machine games - to me anyway - become boring after a short amount of time because all you're basically doing is watching the dials rotate.

This game is a little different, IMO. First of all the graphics are large, so your screen is filled with light and color; bold red and gold colors are used so the displays are bright and eye-catching. The large display makes a great deal of difference, I find, to making the game much more immersive; most slot machine games have a smaller-sized display. Bonus games for winning involve getting the chance to play other casino game like 21 or roulette. You can also win multiple auto-spins, mirror spins, shuffle spins, etc. which means that your screen is really active with things going on, which definitely breaks up the monotony that is inherent in a slot machine game. Game play is very smooth, I enjoyed the sounds of the game, and there are short voice-overs during the bonus casino games play.

For some reason, this game really catches and holds my attention. I'm not bored by it. I will be buying it because I can see it becoming my go-to game in those rare moments when I get the urge to go to AC to play the slots; the price of this game is much cheaper than a trip there. =)

- by Bpup
I enjoyed this game, it is different than any slot machine game. The graphics are very nice, clear, bright. Just an overall enjoyable game. I purchased it!! Thanks

- by twtscat48
Related Games
If you like Mystic Palace Slots game, you may also like...