Paradise Beach 2: Around the World
Build a global network of resorts! in addicting Paradise Beach 2: Around the World Game
System Requirements
OS: Windows XP/Vista
CPU: 600 Mhz
RAM: 128 MB
DirectX: 6.0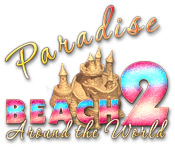 Paradise Beach 2: Around the World Game Description
Once upon a time you managed to become the owner of a resort on a paradise beach. You were the architect behind beautiful gardens, paths, beaches, and bars. Empty beaches came to life and were filled with thousands of happy vacationers from all around the world to enjoy your man-made paradise. Now you're decided to work your way to the top and manage the construction of the world's leading beach resorts in Paradise Beach 2: Around the World, a fun Time Management game!
Paradise Beach 2: Around the World full version features include:
Amazing graphics
Incredible storyline
Build a network of resorts!
Paradise Beach 2: Around the World Game Customer Reviews
Loved the first one! Just played a few minutes of the demo and it looks just as good, probably better. I'd forgotten how all your beach goers jump up and down and cheer you at the end of levels lol Will play more later. The only negative with first game was the awkwardness of the janitor/cleanup system.The square overlap was wasteful with little blank spots needing yet another cleaner. I remember picking up most of the garbage myself because my hires didn't seem to get on it. Just an annoyance, though, I still loved the game.

- by Lauralei
This game is even better than the first one. Graphics and people have changed for the better. This build type of game lets you place your buildings, plants and chairs where you want. You have to really think out where you are going to put things as to how the outcome of the level will be. Build up the coast line and make all of visitors happy. Of course another good game for the all access folks to play.

- by kcerqua
This is my second comment about this game while I am a very big tm fan they are my favorite. I love trying to get expert on every level that I can but for some reason with this game it doesn't matter to me the game is so relaxed and there is so much that you are able to do and the goals are not impossible to meet. I really love the fact that I can create my own little paradise I have only gotten gold on a couple of the levels and I'm really surprised that I haven't beaten myself up to keep trying but this game takes that all away I love it just so relaxed. The possibilities are endless with this game and I have to pull myself away from it I really love this game it is great and so relaxing no pressure what so ever. Just a GREAT game !!! Now I'm off to build some more yay !

- by gmac1007
Related Games
If you like Paradise Beach 2: Around the World game, you may also like...