Penny Dreadfuls Sweeney Todd Collector's Edition
Stop the notorious Sweeney Todd! in addicting Penny Dreadfuls Sweeney Todd Collector's Edition Game
System Requirements
OS: Windows XP/Vista
CPU: 1.0 GHz
RAM: 1024 MB
DirectX: 9.0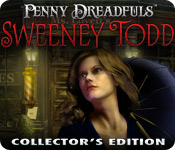 Penny Dreadfuls Sweeney Todd Collector's Edition Game Description
Early access for Game Club Members This is a Collecto's Edition special release. The game will be released without the extras included in the Collector's Edition in about 2 to 3 weeks. Be the first to play Penny Dreadfuls: Sweeney Todd with this special Collector's Edition. Use your Hidden Object and Adventure game talent to stop the notorious Sweeney Todd! Experience all the exclusive Collector's Edition extras including additional Adventure and Hidden Object scenes.
Penny Dreadfuls Sweeney Todd Collector's Edition full version features include:
Exclusive hidden object scenes
Original puzzles to challenge and confound you
An interactive strategy guide
A new "theatre mode" to replay cut scenes and movies
Spectacular full orchestral soundtrack
Game Screenshots
(click on Penny Dreadfuls Sweeney Todd Collector's Edition game screenshots to zoom)
Penny Dreadfuls Sweeney Todd Collector's Edition Game Customer Reviews
this game is definitely a well prepared game and the best I have played lately. Best in means of visuals, challenges, puzzles and the balance between puzzles and hidden objects. thanks.

- by ladybugg
The best since RTR. Tests your knowledge of historical items. In some scenes, graphics are so beautiful I had to pause just enjoy them. I do think the timer part of the game is silly because I don't care about that part of HOGs. Still, a wonderfully creepy feeling that keeps you looking over your shoulder. So so about the singing, but it does move the story along faithful to the original. If you like well executed HOGs you will enjoy this game. Just don't play with lights out all by your lonesome in the dark. BTW it took me about 6+ hours to complete.

- by chasseur
wonderful game !!I bought it even though it was more expensive than my normal games I buy -say it was a Christmas present to myself. There are two ways of playing relaxed or more challenging ,lots of different mini games and very good HOG scenes . There are bonus levels after you complete the game and you get a score as to your achievements so lots of replay value . On playing again the items to find in the HOG scenes are different and sometimes quite hard to find . The game is very well made and seems to run with no technical issues on my computer which is more than I can say of some games recently. At the end of the game it says there will be more "penny dreadfuls"so hopefully this is the start of a great series like MCF . I think you can tell I really love this game.

- by margatonian
Related Games
If you like Penny Dreadfuls Sweeney Todd Collector's Edition game, you may also like...