Pioneer Lands
Conquer the Old West! in addicting Pioneer Lands Game
System Requirements
OS: Windows XP/Vista
CPU: 1.0 GHz
RAM: 512 MB
DirectX: 9.0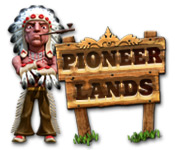 Pioneer Lands Game Description
Pioneer Lands is unique game with a fascinating combination of business simulation and strategy set on the frontier of America's Old West! This is a real western among casual games! It's a story about the brave pioneers who lived and tamed America's frontier. You are the first to make a long journey, full of dangers and adventures. You're mission is to explore new lands! Eight original locations and 99 levels with an incredible range of tasks await you! Welcome to the Old West where many adventures await you!
Pioneer Lands full version features include:
Amazing gameplay
Incredible excitement
Conquer the Old West!
Pioneer Lands Game Customer Reviews
I've gotta say, for the dyed-in-the-wool H0Gster that I am, this game got my attention right away--probably played less than 1/2 dozen TM games--I'm definitely gonna add this to that list! Actually, this seems to be more of a Resource Management game than a TM game--the timed part is pretty generous--it's the strategy of the tasks that is more important.

The intro is inspiring for the Pioneers at-heart; the Options menu has the necessary stuff (sound & music sliders, screen choice, cursor choice, and three gameplay modes!). In my limited experience with these kind of games, I was expecting so-so graphics--great surprise--these graphics are WAY good, depicting rugged, pioneer-land scenery (from the Western U.S.).

The tutorial is very helpful, but does carry on for a while (it can be skipped). In just the 30 minutes or so that I played, I was very busy (in a fun way, not in a white-knuckled way, like the Dash or the Rush series, which I've tried). (Possible SPOILERS)--Gather wheat, bust up boulders that block the path, collect gold, grind the wheat into flour, hire more help, sell the flour in town to get more gold--whew--What hard work it must have been to be a Pioneer! Apparently, earning a Gold reward requires completing a task in half the time for earning a Silver reward--I'm not far enough along to know what the difference in outcome will be.

I completed 8 levels in my 30-35 minutes--there are allegedly 99 levels, and I'm sure they get tougher as you go along, so this game bodes very good length. It's from Nevosoft and Astar--developers of, most recently, Dreamland. Good Show!

- by elldee
Two new TM/Building game this week, and this one is a WINNER! From the developer of Abigail and the Kingdom of Fairs and My Kingdom of the Princess. This is is pretty different from any other Building game, i'm now getting tired of build your own empire or building game set in Egypt..... This game set in American countryside You can grow your own crops, collect resources, buy or sell them, build buildings etc. Yes, it's fun and the graphics/music are both great, get the feel and atmosphere of American style countryside Bought it already....

- by TeamSD
Seriously, if you liked My Kingdom, you will LOVE this game. Only the graphics are one thousand times better. You collect the necessary items and make wheat, build bridges etc...but in this one you need to also sell the items to meet the cash goals set. There is one down-side, you cannot set the characters to multi-task. You must wait until each one gets back to the house to send them out again. But overall a really really good game.

- by kcerqua
Related Games
If you like Pioneer Lands game, you may also like...