Potion Bar
Sell a Potion - Save the World! in addicting Potion Bar Game
System Requirements
OS: Windows XP/Vista
CPU: 600 Mhz
RAM: 256 MB
DirectX: 8.1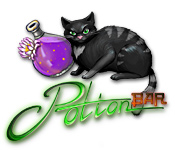 Potion Bar Game Description
Plunge into the captivating world of magic! Make delicious potions with Rainbow spray and Vampire fangs and serve them to fantastic clients. Decorate glasses with wild lotuses and Phoenix feathers. Witness your amazing potions endow incredible power, reverse aging and help get to the secrets of the Universe. Travel world and space, see prophetic dreams and solve the enigmatic mystery in Potion Bar, a fun and exciting Time Management game!
Potion Bar full version features include:
Fast-paced gameplay
Unique potions to create
Sell magical potions!
Potion Bar Game Customer Reviews
I LOVED this game! I sped through all the talking bits cause I wanted to get as far as I could in the trial, but it was a lot of fun. The potions got confusing after a while so there was a challenge for sure. I wish you got more chances to buy new upgrades but it goes back and forth. One minute you get to upgrade, the next you are advancing the storyline. I loved the hidden object quality and I thought it was very different how you had to piece together the parts for the portal door or whatever it was. lol That was something I hadn't done before. All in all, a fun game with a nice twist and a good challenge.

- by ashomac
Finally a classic time management game, fun, addicting, great graphics, story and gameplay. I hope they keep making more like this I finished because I just couldn't stop, and I was left wanting more! Two Thumbs UP !!!

- by foxcat
This was a fun time management game. Mixing different drinks and around the third game there is a hide a seek game, which was fun. The game play was fun and the different bars were beautiful. The cat was fun too. The hour was gone before I knew it.

- by ksartist
Related Games
If you like Potion Bar game, you may also like...