Puzzle Hero
Challenge your mind and be a hero! in addicting Puzzle Hero Game
System Requirements
OS: Windows XP/Vista
Memory: 256 MB
DirectX: 8.1 or later
CPU: P900
Video: 3D Accelerated Video Card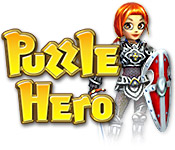 Puzzle Hero Game Description
Embark on a thrilling and amazing journey in this unique game! The Hero in you must save your kidnapped brother, Tristan, by freeing him from Zalock and his evil Army of Darkness! Outwit the puzzle and battle more than 50 mystical monsters that guard the road to the Kingdom of Fog. Increase your power by gathering gold and using it to shop for magical amulets, an amazing selection of weaponry, armor, and clothing accessories. Adventure and glory await you in Puzzle Hero!
Puzzle Hero full version features include:
Defeat More Than 50 Mystical 3D Monsters!
Exhilarating Gameplay!
Fantastic Selection Of Equipment!
Collect Gold To Customize Your Hero!
Puzzle Hero Game Customer Reviews
Realy good game.I surprised by everything in it plus I completed full game.I dissapointed by their imaginery,because there are a lot of same enemies just,they have diferent colour.Sound is great and you canbuy a lot of things.I also recommend to everybody Flower Paradise.Try it!

- by Archipelago
This is one fun game! It combines match-3 style puzzle game play with classic Role-Playing Game elements (e.g.: turn-based combat,gold, experience points, armor, etc...) seamlessly. The music fits the medieval fantasy setting quite nicely, I never found it grating or repetitive; the art is top notch, and I was particularly delighted with the monsters' designs.

- by Melissa K. Lester
This is a really good game and its more than just puzzles, like everyone thinks, thats why i think they should change the name of the game. Anyways i think it is sutible for everyone, no blood or high vilance.

- by julelover44
Related Games
If you like Puzzle Hero game, you may also like...