Rescue Frenzy
Guide courageous rescue workers! in addicting Rescue Frenzy Game
System Requirements
OS: Windows XP/Vista
CPU: 600 Mhz
RAM: 128 MB
DirectX: 6.0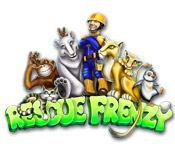 Rescue Frenzy Game Description
Go on a Rescue Frenzy in the aftermath of devastating storms, catastrophic earthquakes, and disastrous wildfires! Race against the clock to clear away debris; collect resources for rebuilding hospitals, bridges and power stations; and save people and animals from certain peril. Collect power-ups to increase your speed, steer seven powerful vehicles over rugged terrain, and strive for the Master ranking in this fun Strategy game. Can you save the town before Mother Nature wipes it off the map? Save the day in Rescue Frenzy!
Rescue Frenzy full version features include:
Incredible action
Unique gameplay
Guide courageous rescue workers!
Eight cute animals to save
Learn-as-you play tutorial
Rescue Frenzy Game Customer Reviews
This game is GREAT!! It is simular to Rescue Team and My Kingdom for the Princess, but with a very unique storyline and gameplay of SAVING THE WILDLIFE from man-made and natural disasters of today's lifestyle. If you are a Animal Lover, you will especially like this one. I usally don't go for the frenzy type games, but this one is quite different. Not too crazy about the background music, but it doesn't keep me from the addictive gameplay ... all sumed up - Unique Storyline, Fun Gameplay and High Replay Value, plus I just LOVE IT!!!

- by smokymtngal
I really love most of your games; they are so interesting and fun to play. You never stop amazing me with all your new and exiciting game.

- by althea
I was not sure if I would like this one, but as the levels go on, there is more of a challenge and a different number of levels on each town. There is no tutorial but if you have played these games before, you will have no problems figuring out what to do. It is a cute game and a buy for me.

- by TXrosebud1
I liked the game very much, some of you may think that it's similar or even the sequel to Rescue Team but it's NOT!!! Yes, it's from the same developer so i wandering why they releasing two games with similar title!

Graphics in this game are cute, colorful and charming, really attractive! The gameplay is simple, same as other building, resources management game but with over six types of resources!!! The system of each resource is interesting enough, with many upgrades and features. You need to complete set tasks to complete the level, and one of those tasks will be to rescue animals or citizens. You can earn gold or silver medal like in FFZ. I will rate this an "A" but i won't be purchasing this game because of the extremely long loading time between each level, unless they will fix it or else i will be buying it on sale or as DD!

- by TeamSD
Related Games
If you like Rescue Frenzy game, you may also like...