Rescue Team
Rebuild three islands! in addicting Rescue Team Game
System Requirements
OS: Windows XP/Vista
CPU: 1.0 GHz
RAM: 512 MB
DirectX: 8.0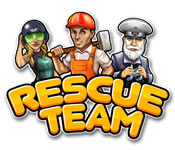 Rescue Team Game Description
Control the rescue workers who rebuild three islands in the wake of devastating weather! Remove debris to free trapped workers in Rescue Team! Repair damaged restaurants, houses, and sawmills to produce necessary resources. Race against the clock to collect gems, put out fires, and save stranded swimmers! Rescue Team is fun, gripping, and unlike any other game you've played!
Rescue Team full version features include:
Awesome bonuses
Unique minigames
Rebuild three islands!
Rescue Team Game Customer Reviews
I played about 5 levels and I think I will be buying this one. The graphics are nice and the gameplay is very much like MKFTP (which I loved!).

The timer is a little more unforgiving, but I actually like this very much. I enjoy a challenge. That being said, I finished the first 5 levels with 'gold' the first try, but a couple of them just barely. The thing to think about is you don't need to tackle all obstacles; just focus on the ones that will help you achieve the level's goals. If I tried to clear all debris on a level there would be no way to achieve gold on it.

Its great to hear that the game is lengthy, and I always go back to re-play these types of games anyway.

- by bakagaijin78
An alright little game. Yes, just like Kingdom for a Princess, but with a little twist. You now have a helicopter to resuce folks and a house to rebuild after the destruction. You must clear roads, rebuild homes, cafes, put out fires and rescue people. These games are always fun, but I just don't know if it is worth buying. I am still on the fence with that one. But, give it a try I am sure you will like it and what a way to blow an hour of your day!

- by kcerqua
I must be the odd man out. I liked this game so much that I bought it. And I don't regret it. I wasn't feeling well yesterday so I just sat here and played for a large part of the day and finished it. Now I have to go back and try to get gold on every level. And that's harder than you think. To get all the citizens saved and fires put out on top of getting the jewels and building everything required got quite challenging. When you think about it, there's only so many ways to do a HO game and to do a match 3 game before they're all just same game with a different story line. So though this is similar to MKFTP. It also has enough backbone to stand on it's own. I don't regret buying it. I'm looking forward to getting all gold and then starting over. Get it a try.

- by bluebird91
Related Games
If you like Rescue Team game, you may also like...