Ricochet Lost Worlds
The most dazzling brick-busting game ever! in addicting Ricochet Lost Worlds Game
System Requirements
OS: Win 2000 /XP /Vista
Processor: PII 400 Mhz
Memory: 64 MB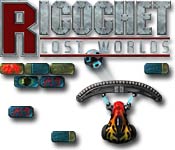 Ricochet Lost Worlds Game Description
With its stunning visuals and sound effects, gripping soundtrack and compelling level design, Ricochet Lost Worlds could quite possibly be the most addictive game ever made. This remarkable breakout action game will entertain your whole family for hours on end! Throw into the mix a slew of innovative power-ups, a new "Ring Game" and a level editor where you can make your own levels and you have an unbeatable combination. You just have to download this brick-busting game... it's a blast!
Ricochet Lost Worlds full version features include:
160 Challenging Levels
Stunning Visuals and Thumping Sounds
Ingenious New Specialty Bricks
Create Your Own Levels
Ricochet Lost Worlds Game Customer Reviews
This is a very simple game that is totally addictive. I downloaded it then purchased it AGES ago but its still a game I play every day. The great feature of this game is the fact that there are NUMEROUS additional level sets that can be downloaded and played. This makes the game very good value for money and great fun.

- by lovetoad
It is a very addictive and fun game. I spent hours playing it, starting from easy mode, to difficult mode. It is a no brainer arcade type of shooting game, easy to play. However, it will take days of non stop playing in order to master this game. Very well designed, good graphics, quality sound. Hightly recommended and worth buying.

- by QDEK
This is a fantastic game! Tons of great levels and motion. You can even go in and script your own levels! Also, if you finish all the levels that came with the game you can search the web to find literally thousands more levels made by users all over the world. I play this game every day.

- by larsbrubaker
Related Games
If you like Ricochet Lost Worlds game, you may also like...