Runes of Avalon 2
Match magical runes on a quest through Avalon! in addicting Runes of Avalon 2 Game
System Requirements
OS: Windows 98/ME/XP/Vista/7/8
CPU: 600 Mhz
RAM: 256 MB
DirectX: 6.0
Hard Drive: 32 MB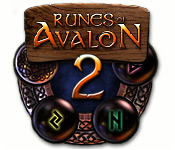 Runes of Avalon 2 Game Description
Welcome to the once glorious empire of Avalon, now clouded by the darkness of the evil Morganna's spells. After defeating Morganna in an intense magical battle, Evelyne, the protector of Avalon, must now cleanse Avalon from the dark curse with her Rune Magic by matching the runes through many new locations, spells and challenges! With three game modes and some unexpected twists, Runes of Avalon 2 takes you to an enchanting world of magic and mystery you won't want to leave!
Runes of Avalon 2 full version features include:
Match The Magical Runes!
100 Enchanting Levels!
Play Quest, Endless Or Time Attack Mode!
6 Spectacular Power-Ups!
Runes of Avalon 2 Game Customer Reviews
I thought it was a little more than your match 3 plus to match. Each turn had to have a little thought behind it. How many can I break at one time. What play will give me the most points etc...I thought this game was put together very well. A bit more Challenging. I recommend it!

- by Anonymous
This is a shockingly solid game... it is an absolute piece of art, and you really should go play it.

- by Casual Review
I played the original Runes of Avalon but found it somewhat frustrating due to the lack of my own skills, not a poor game. However, this Runes 2 version seems to provide just enough balance between the logic and skill required to advance levels and just plain old fun. There is one very frustrating and redundant game where you have to match characters. Unfortunately, it is used for too many levels and is just not fun. However, I just grit my teeth and do it because I want to go to the next level. This does not stop any enjoyment of the other levels, it is just boring.

It is a good game for hours of fun without too much mind bending effort. There are lots of beautiful graphics to enjoy with sound effects. Played with or without the sounds, the game hits the mark for some challenge, use of logic, and eye-hand coordination.

- by Debbi
I love Runes. This is Match 3 with a twist You must fill the colored Runes in the top left corner before your time runs out. Each new level is more challenging than the one before. There are mini-games in between used to gain power-ups and puzzles to put in order. Grapics and story line will please you also. This is one fabulous game. The first Runes of Avalon was challenging and this one is even more challenging. An absolute, MUST HAVE!

- by Fayleen
Related Games
If you like Runes of Avalon 2 game, you may also like...