Sheep's Quest
Guide a herd of sheep! in addicting Sheep's Quest Game
System Requirements
OS: Windows 2000/XP/Vista/7/8
CPU: 1.0 GHz
RAM: 256 MB
DirectX: 7.0
Hard Drive: 107 MB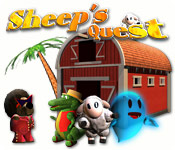 Sheep's Quest Game Description
You'll love this stimulating Brain Teaser in which you guide a herd of sheep through seven game worlds in an effort to collect enough coins to rebuild their once magnificent farm. Steering the adorable animals around enemies and obstacles to the riches they need is as simple as placing arrows on the ground pointing the way. Featuring colorful graphics and delightful audio, Sheep's Quest is sure to become one of your favorites!
Sheep's Quest full version features include:
Earn farm upgrades.
Avoid nasty enemies.
Great level design.
Sheep's Quest Game Customer Reviews
Wow! That was so fun! It was unusual and cute, easy concept, very addictive and adorable story. Not the same old thing! like to see more games like this

- by peacox7
This was a really fun game! This game is for people who like figuring out maze puzzles. You have to guide the sheep using arrows. There are different enimies and obstacles you have to avoid, which gives it an exciting twist! But, my FAVORITE part of this game was at the end of each round, you have a little "sheep party." You help the sheep get across the room - but they can't touch the floor! You get to spring them across using a giant trampoline! That is the ABSOLUTE BEST part of it all! I kept flying past the levels to get to that part. Also, another cool thing is that you get to upgrade your sheep town. Whether it's from buying a bowling alley to a new walkway, it was fun! Great game!!

- by Monarquera
Related Games
If you like Sheep's Quest game, you may also like...