Slingo Mystery: Who's Gold
Economy got you down? Pull off the ultimate casino heist! in addicting Slingo Mystery: Who's Gold Game
System Requirements
OS: Windows XP/Vista
Memory: 256 MB
CPU: P1 GHz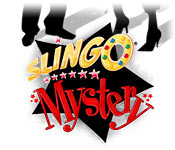 Slingo Mystery: Who's Gold Game Description
Maggie Gold was left with nothing after a messy divorce with casino mogul Freddy Gold. Freddy kept his money, the attorneys got Maggie's share, and she was left with nothing. But now, Freddy just showed up dead and his new wife is gearing up to inherit the casino. Can Maggie get back in to the casino one more time before it is too late and discover all of the secrets Freddy left behind?
Slingo Mystery: Who's Gold full version features include:
A Fun Filled Casino Heist!
The Engaging Story Builds To An Exciting Conclusion!
Multiple Unique Slingo Machines To Discover!
Get In. Get Out. Can You Do It?
Slingo Mystery: Who's Gold Game Customer Reviews
Love the look and sound of this game. I'm a Slingo fan, and this is like Slingo on steroids!

- by shoffer
Oh WOW! Where to begin! This game is so much better than the rest. It has a "sim" feel to it as you go about finding objects in different rooms.

Freddy, Maggie's husband is dead (or so I believe). Maggie goes around his casino (to get her money) finding different objects, and she has her buddy to help her along. In their dialog, they stop and say like, "what do we need to enter the casino", or "what's in that pot". It has a very sim feel it which is maybe I like it so much. It's like you're Maggie! Different than other S&F in that you're not just finding objects for the heck of it.

The graphics are fantastic! The music is very fitting. And the game just over-all is very polished. If you buy just one game this weekend, this is the game to buy! I know that I'll be purchasing this one!!

- by tentoes
This was the neatest and the most enjoyable Hidden Object game I have played in a long time, It is very entertaining and keeps you guessing.

- by reaze111
Related Games
If you like Slingo Mystery: Who's Gold game, you may also like...