The Lost Cases of Sherlock Holmes
Follow your favorite sleuth through 16 famous cases! in addicting The Lost Cases of Sherlock Holmes Game
System Requirements
OS: Windows 98, Windows XP, Windows Me, Windows Vista
Memory: 256 MB
DirectX: 8.1 or later
CPU: P600
Video: 32MB Video Card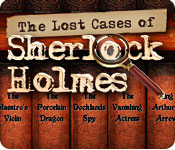 The Lost Cases of Sherlock Holmes Game Description
The Lost Cases of Sherlock Holmes is a lavish mystery adventure game, featuring 16 unique cases of forgery, espionage, theft, murder and more! Investigate hundreds of potentially relevant clues and lively characters in each mysterious story! Explore 40 historically accurate locations around London, including seedy docks, the British Museum, the Royal Theatre, private estates, etc., as you track down suspects and evidence with your favorite super sleuth, Sherlock Holmes!
The Lost Cases of Sherlock Holmes full version features include:
Solve 16 Unique Cases!
Challenging Mini-Games To Unlock!
Many Different Gameplay Types!
Travel Through Victorian London!
The Lost Cases of Sherlock Holmes Game Customer Reviews
I enjoyed this game a lot! The characters and dialogue were entertaining and the graphics were very well done. I really liked the mini puzzle games - they were all so different and each one reveals an important clue. The last case was my favorite - the ultimate detective work. Puzzle/mystery games are my favorite and this one is sure to please anyone!

- by violet7854
It had everything to be a smash hit: From story, characters to voices, music/audio and gameplay; except one: outdated graphics. What an unaccountable Legacy Interactive's idea!

- by buzzworthy
Can the commentary and you'll enjoy this long-playing game. The mini-puzzles are easy and only take a moment or two. The magnifier is GREAT, showing not pixelated blurs, but high-rez images in greater detail. For that this game gets an extra star.

- by zippergirl
Related Games
If you like The Lost Cases of Sherlock Holmes game, you may also like...