The Mystery of the Crystal Portal
Search the globe on an eye-popping quest for the Crystal Portal! in addicting The Mystery of the Crystal Portal Game
System Requirements
OS: Windows XP, Windows Vista
Memory: 128 MB
DirectX: 7.0 or later
CPU: P800
Video: 32MB 3D accelerated video card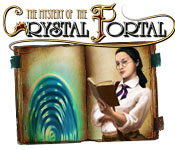 The Mystery of the Crystal Portal Game Description
Embark on a brain-bending adventure that's full of unique hidden object fun! Journalist Nicole Rankwist has always been close to her archaeologist father. So when he goes missing, Nicole knows she has to find him. After all, he had apparently just made a discovery that could "change the course of humanity." Join Nicole as she searches the globe on an eye-popping quest to find her father and discover the truth behind the mysterious Crystal Portal!
The Mystery of the Crystal Portal full version features include:
Unique Hidden Object Gameplay!
Immersive Storyline!
Stunning Scenes To Search!
A Thrilling Escape For The Whole Family!
The Mystery of the Crystal Portal Game Customer Reviews
I really love this game. It is definitely not your average seek N find. You have to find clues to use with other clues in order to continue and find more clues...LOL. It's great. The graphics are fantastic in my opinion. I love that there is no time limit and you are not really penalized for using hints. You have a time limit on how often you can use hints, but that's it. I try not to use them at all...but sometimes you have to. Great game in every aspect even though I haven't gotten very far into it.

- by TraJac
I really enjoy this game. I have had it for several years and still go back and play it when nothing new is out. It does not have the more advanced graphics that have been developed in recent games but it's scenes are beautiful and creative and offers a different spin on standard HOG games. I enjoy having to successfully complete one task in order to complete another in a different scene. The story line is good, the transition from scene to scene to flawless. I highly recommend this game without reservation: you will enjoy it.

- by macvee48
I love this hidden object game.. I cant get enough. I was stuck at one part the PRISM... But once I walked away and came back to it with a fresh look I got it in 5 mins. I am not a CLICKER... I played it with the open mind and didnt use the hint button to much.. I enjoy it very much. PLAY IT!

- by NewGameLover209
Related Games
If you like The Mystery of the Crystal Portal game, you may also like...