The Price is Right
Come on down! Play in Contestant's Row. in addicting The Price is Right Game
System Requirements
OS: Windows 2000/XP/Vista
CPU: 1.0 GHz
RAM: 256 MB
DirectX: 8.0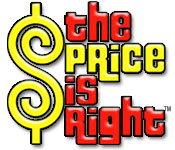 The Price is Right Game Description
Come on down to the Price is Right( TM ) and feel the thrill of playing in Contestants Row. Play up to 16 of the most popular pricing games like Plinko, Cliff Hangers, Punch-A-Bunch, and more of your favorites. Try your luck as you spin the Big Wheel for the chance at fabulous prizes and a huge pay-off at the Showcase. Rack up achievements in your personal trophy room and celebrate with The Price is Right theme music. Relive the fun of this retro hit game on your own or in Party mode with friends.
The Price is Right full version features include:
True-to-show game experience
Single mode, multiple shows
Rack up the biggest winnings!
The Price is Right Game Customer Reviews
I've always wanted to go on The price is right. I know all the games and watched it faithfully until bob barker left (i really dont like drew carey)! but I still love this game. It was so real but I would've loved to here charlie say come on down!!!!!!!!!!!!!

- by kn24
This is the best game ever! If you like the show, you will love this game. It feels like you really are on the show and is actually very accurate with prices. It is nice that you can bypass a lot of things so you can save time. The graphics are great as well. I only wish that there were more modes to play in instead of only 3 strikes and you are out. Overall- 5 Stars!

- by MUDMAN4X4
I really enjoyed this game, its just like the price is right which is on the tv, you go thru the same motions. Go thru rounds to get to the showdown. definate game to buy.

- by Candy2020
Related Games
If you like The Price is Right game, you may also like...