The Treasures of Montezuma 3
Match tokens to unlock incredible riches! in addicting The Treasures of Montezuma 3 Game
System Requirements
OS: Windows XP/Vista/8
CPU: 1.6 GHz
RAM: 512 MB
DirectX: 9.0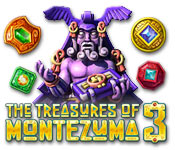 The Treasures of Montezuma 3 Game Description
The Treasures of Montezuma 3 features two addictive game modes: Casual and Timed. Casual mode allows you to match tokens at your leisure, while the Timed mode offers an intense, fast-paced match-three challenge. Whichever mode you choose, you'll enjoy spectacular visual effects and explosive audio as you invent unique strategies for upgrading the power-ups and solve dozens of mind-bending mini-puzzles between stages. With 160 levels to beat, you could be in the jungle for months!
The Treasures of Montezuma 3 full version features include:
Enjoy Casual and Timed modes!
Upgrade your power-ups between stages!
Unlock incredible riches!
160 arcade levels and 42 puzzle levels
The Treasures of Montezuma 3 Game Customer Reviews
I loved the other 2 in this series, and I wasn't disappointed with this one. There are 2 mini games, 1 where you figure out how to get rid of all the blocks (which can be quite challenging) and the other one is like a casino slot machine.

I like my M3 games like I like my films ~ lots of explosions, fast passed and preferably with some bare chested he-men ~ this lives up to 2 of my criteria (the explosions and fast passed), alas no bare chested he-men! I love the graphics, they really went to town with the little gods making them much more animated and fun to watch and the opening sequence makes it feel like a film.

The aim is to unlock the treasures, you earn bonuses by collecting stars by beating scores, mini games and wining points. All in all this game is fast paced, fun and totally addictive ~ yay!

- by Minxski
This game has made the top of my "to buy" list. Another gold medal for Alawar games! Awesome graphics, ok music background and fun to play. The only fault I could see is the directions on how to use the totems/aids could have been written better.

- by Beautifulspirit43
Great new twist on one of my favorites. A minuet to win enough points to earn a token for the latest chest. New powerups often enough, and levels hard enough to keep things interesting. Mini games to earn extra stars to buy powerups with. Especially love the short video introduction.

- by lisaa7002
The "relaxed" mode is definitely a misnomer in this game, since it runs with a timer. But it's a gorgeously designed game - great graphics, the music sets the pace and the gameplay is smooth. The hour demo went by in a flash for me. Though I'm not really into Match-3 games at the moment, this one had enough bells and whistles, what with the bonus games, the goals that had to be met, the stars that had to be earned to unlock bonus stones - that it kept me interested in the game the entire time. I think that I'll use one of my coupons for this.

- by Bpup
Related Games
If you like The Treasures of Montezuma 3 game, you may also like...