Tradewinds Odyssey
Sail the high seas in Ancient Greece! in addicting Tradewinds Odyssey Game
System Requirements
OS: Windows XP/Vista
CPU: 1.0 GHz
RAM: 512 MB
DirectX: 8.1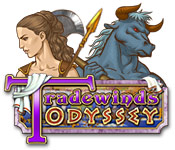 Tradewinds Odyssey Game Description
Guide five unique heroes - the Athlete, Cynic, Priestess, Minotaur and Goddess - as you embark on quests, encountering characters both strange and familiar. Take part in trading like never before by creating and spreading goods to new lands as you build, strengthen and upgrade your fleet into a powerful force unrivaled in the Aegean! Tradewinds Odyssey lets you cast powerful spells bestowed upon you by the gods, or use your unique Hero's Talent to demolish your opponents in battle.
Tradewinds Odyssey full version features include:
Colorful characters
Hilarious dialogue
Sail the high seas!
Tradewinds Odyssey Game Customer Reviews
What can I say.....Slick graphics, a great story line, and amusing dialog make for a fantastic game. The game mechanics are simple enough that even players not familiar with the Tradewinds games will be able to jump right in. The dialog is I must admit hysterical. I found myself laughing out loud more times than I can count! Well thought out plots that carry the story forward and no dead ends to frustrate you make this game extremely playable and gamer friendly. Several different characters offer additional stories so replayability is also very good.
My one complaint would be quite small. After a certain point you can acquire enough money in the game that you buy all upgrades and max everything out then you are left with no real purpose for trading (the theme of the game) you are simply sailing back and forth fulfilling requests. Still interesting to continue the game even once you reach this simply to see the new plot unfold.

Overall a fantastic game I find well worth the purchase price!

- by desmar2u
Played the Beta. It was an enjoyable addition to the Tradewinds family. Some good changes made it easier to play, while it kept the same character and basic gameplay. Music was nice, gave it a nice "ancient Greek" feel. It still had all the funny little puns and cultural references that I've come to associate with (and love about) the Tradewinds series. Not a five, but it's still a good solid game.

- by Medbie
Related Games
If you like Tradewinds Odyssey game, you may also like...