Travel Riddles: Trip to France
Go on the match-3 quest in France! in addicting Travel Riddles: Trip to France Game
System Requirements
OS: Windows XP/Windows Vista/Windows 7/Windows 8/Windows 10
CPU: 1.0 GHz
RAM: 512 MB
DirectX: 6.0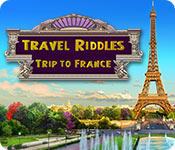 Travel Riddles: Trip to France Game Description
Have a fantastic trip to one of the most beautiful countries. Travel to France and unlock its secrets through a series of puzzles set in the capital city of Paris, amazing landscapes of Champagne, Provence and the jewel of French Riviera �Cannes. Earn dozens of achievements, get free gold to charge the powerups, blast through challenging levels and set the best score. Learn fun facts about past and present of France on every level and collect tons of artifacts and souvenirs! Your journey around the world continues! Where will your travels take you next?
Travel Riddles: Trip to France full version features include:
Uncover more than 100 artifacts
Learn the secrets of France through more than 230 levels.
Beautiful locations
Travel Riddles: Trip to France Game Customer Reviews
This is a FUN relaxing match-3 game. Graphics are BEAUTIFUL. Your hostess is well drawn and reminds me of those vintage paper dolls when people actually knew how to draw.

Each level is preceded by a little tidbit fact about France. Then you do a match 3 level. Highest you can get is 3 stars. The match 3 items can include fragments of a French souvenir (Eiffel tower key chain, handbag, etc) to finish out the level. In between match 3, there are jigsaw puzzles. Very simple concept, but great if you are a fan of match 3, learn trivia about France, and appreciator of beautiful graphics.

Definitely download the Free trial, which downloads quickly, to see if you like. Based on the demo, I was hooked. A good way to take a break from HOGs.

- by ninja226
I'm always on the hunt for a good, addicting Match 3 game, love them. Based on playing the demo, this one's not a buy for me; I found it pretty boring and the music annoyed me. No technical glitches -- game play was smooth and responsive. Not a bad game, certainly not bad enough for me to not recommend it. I do recommend playing the demo before purchasing so you can decide for yourself.

- by Kafinkee
I am enjoying this 4th entry of travel riddles. before each puzzle there is info about various parts of France, which I did not know - even though I am from Europe.

is NOT a plain and simple M3 game. Some of the screens have barriers, and you have to be real sneaky in making matches. Others have climbing vines that threaten to cover the whole screen. Still others have both!

The mini games are fun, including a jigsaw puzzle with a black screen and small pieces to make a picture. Of course, you can skip puzzles. try it! "You may like it"

- by Larissa_Jane
Related Games
If you like Travel Riddles: Trip to France game, you may also like...