Wendy's Wellness
Discover the fascinating world of wellness management with Wendy's Wellness! in addicting Wendy's Wellness Game
System Requirements
Windows XP/Vista
Pentium 800 MHz or better
DirectX 7.0 or better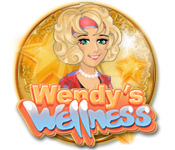 Wendy's Wellness Game Description
Wendy's Wellness is a new time management game, which will definitely captivate you. Develop your own chain of 10 splendid fully-equipped wellness centers, serve the customers, buy new equipment and hire employees. There are different types of visitors, and each type needs special approach and attention. Do your best for the customers and your business will prosper!
Wendy's Wellness full version features include:
50 challenging levels and 10 unique Centers
12 VIP training mini-games
Lots of fun and unusual situations with clients
Relaxing music and pleasant game environment
Wendy's Wellness Game Customer Reviews
Wendy's Wellness, Fitness Frenzy, Fitness Dash... I'm sensing a new trend here. Are fitness games the new wave for the time management genre? Either way, Wendy's Wellness is a new health spa themed time management game that's a healthy addition to the line up. ... it's fun to play a time management game that's straightforward, with great pacing. Wendy's Wellness is challenging and frantic, without being too tough. With plenty of new additions and twists, it's a good addition to your time management collection.

- by Gamezebo
Great game, good use of english, cute graphics, VIP customers, upgrades, mini games, assistants, man it has it all. Challenging but not hair pullingly so. It is a bit short tho, I got about 15 levels through in one hour. Also a little slow on monney making. Those are the only down sides I can really think of.

- by Nahnia
This game is a winner! A great first effort by Sugar Games. Time management gameplay very similr to Posh Bouique and Leeloo's Talent Agency but in this game, you can replay individual levels to get expert score. This game is also challenging. Two thumbs up!

- by carfixer1957
Related Games
If you like Wendy's Wellness game, you may also like...