World Mosaics 6
Stop an infamous cat burglar! in addicting World Mosaics 6 Game
System Requirements
OS: Windows XP/Windows Vista/Windows 7/Windows 8
CPU: 1.0 GHz
RAM: 1024 MB
DirectX: 9.0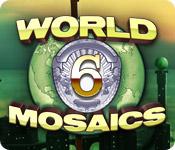 World Mosaics 6 Game Description
The hourglass of time has been stolen by the infamous cat burglar La Forge! Solve pictographic puzzles as you travel across the globe and through time itself. Journey through critical points in history from the Napoleonic wars to the birth of the United States. It's up to you solve the puzzles and stop La Forge in World Mosaics 6!
World Mosaics 6 full version features include:
Hours of relaxing gameplay
Over 100 story mode puzzles
150 additional bonus puzzles
World Mosaics 6 Game Customer Reviews
I've been a great fan of World Mosaics since the beginning of the series, and am delighted to say that this one is my favorite so far. There's a touch of humor, the puzzles are fun, and an enjoyable storyline in Version 6. If you enjoyed the previous versions, you'll love this one. I highly, highly recommend!

- by lottelein
This is the first game in the series that offer 25 X 25 games. They take some time just because of the number of marks you have to make. There were a few games that I could not find the logic as to where to mark, but I assume it was me and not the game. I made a guess, then replayed so I could get the three star rating. There are lots of games so it is well worth the price. I do wish that the background and the marks were not both blue. I did make a few mistakes because the contrast isn't very good. It's a good game if you like this type of game. The game gets harder and harder but the concept doesn't change so if you enjoy the first free hour, you will probably enjoy the complete game.

- by leea928
love the world mosaic games. this one is gr8. the music is soothing. the story line intriguing. like that we're traveling to different time periods. i didn't find trouble toggling b/t the tack and light as one reviewer did-jst used my right and left mouse buttons. another game to add to the library...

- by emi1
Related Games
If you like World Mosaics 6 game, you may also like...