Christmas Wonderland 2
Help Santa Claus deliver toys! in addicting Christmas Wonderland 2 Game
System Requirements
OS: Windows XP/Vista
CPU: 800 Mhz
RAM: 512 MB
DirectX: 9.0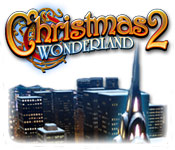 Christmas Wonderland 2 Game Description
Help Santa Claus in his amazing Christmas Wonderland! Join forces with Santa's elves and make this the best Christmas ever! The Workshop is buzzing with activity and Wonderland is crammed full of fabulous toys, candy canes and Nativity characters, but they still need your Hidden Object talents. Complete tricky puzzles and fun minigames to make sure all children have tons of presents to unwrap on Christmas morning!
Christmas Wonderland 2 full version features include:
Join forces with the elves
Travel to a Christmas Wonderland
Help Santa Claus deliver toys!
2 game modes: Casual and Challenge
Seasonal Good Cheer and a Merry Christmas!
Christmas Wonderland 2 Game Customer Reviews
I agree the graphics IMHO are fantastic and though the scenes are "busy", I loved looking at all the things in them, especially the animations. I had to keep reminding myself to look for the H0s. I didn't get very far before deciding to stop and get it. I really enjoyed the sfx and music, though in one H0 scene I thought the sound was cutting out until I realized that it was a sleeping kitten purring. I only played one puzzle (said it didn't take me long to decide) which was a jigsaw puzzle and quite simple. Will just add that there are sliders for music and sound. Buttons for full screen and mute all sounds and also to turn off the Christmas lights around the H0 scenes. There is only the system cursor. There is an over-click penalty that effects the cursor, but, it is very brief. The hints recharge in a short 25 seconds. And, as I understood it, finding the candy canes and Santas was for bonus points. I didn't play the first in the series so I cannot compare the two.

I'ts a buy for me but, as always, it is a matter of opinion and in mine it is worth a try! Happy Gaming ALL.

- by BearKat
I bought Christmas Wonderland 1 last Christmas for my kids and it was the best game I could of bought, it kept them entertained right through Christmas. What I like about this company's games is that they seem to set the difficulty level just right, so the busy HOG screens are challenging but not to difficult for any of the family to play. Last Christmas my 75 year young Gran played a good part of the game with my 5 year old daughter and I dont know who enjoyed the game the most.

This sequel, from what I have seen so far looks as good or even better than the previous one, so once the trial is up, I will certainly be adding it to my collection.

- by jaguar100
Yeah great fun Holiday Season hog game. Nice bright festive looking scenes and plenty of mini games and puzzles.

- by retroFish
Related Games
If you like Christmas Wonderland 2 game, you may also like...