Clueless
Help Cher make sure that her friends are the most fashion forward in Beverly Hills! in addicting Clueless Game
System Requirements
Windows XP/Vista
800 MHz processor or faster
512 MB RAM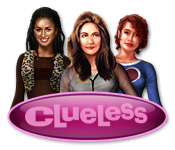 Clueless Game Description
Cher and her friends are on an unending quest to find the perfect clothes for every occasion. Whether it is prom or just a day at school, they always have to look perfect to avoid "fashion victim" status. Cher's clique dress not only to impress other girls, but also boys. Help Cher and her friends achieve the title of "fashion goddess" while attracting the perfect match!
Clueless full version features include:
Over 15 different styles of clothing
Choose from over 500 articles of clothing and accessories
Watch the story unfold between Cher, Josh, Dionne, Murray, Tai and Travis
Help each of Chers friends find the perfect guy
Clueless Game Customer Reviews
This game was awesome! i could not stop playing. I liked how I can dress them up in really cuuuuuute clothes. A must play for fashion lovers!!!

- by mariaa
I had fun with this one. There were funky clothes to use and lots of them. The powerups were helpful, which were like in jojos fashionshow. The boyfriends didnt do much for me though. I wish there were voices from the movie. I liked that there were a lot of levels (I hate short games).

- by Kara
I enjoyed this game. It reminded me of Jojo's Fashion Show in many ways. There seemed to be a lot of interesting clothing choices and styles. That was the main reason I kept wanting to play was to see what would come up next. Overall I had fun playing this game.

- by Zebo
Related Games
If you like Clueless game, you may also like...