Cradle of Egypt
Explore the lands of the Pharaohs! in addicting Cradle of Egypt Game
System Requirements
OS: Windows XP/Vista/8
CPU: 1.6 GHz
RAM: 1024 MB
DirectX: 9.0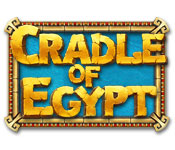 Cradle of Egypt Game Description
Explore the lands of the Pharaohs and the Cradle of Egypt! Enjoy the miraculous constructions in this awesome Match 3 game! Journey through five ancient epochs and build your own Egypt. Starting from a small village, develop your settlement into the most powerful civilization, the cradle of all civilizations! Collect resources, construct various buildings, and finish with the Pyramids of Giza, the Sphinx, and other magnificent temples!
Cradle of Egypt full version features include:
Construct the Pyramids
Develop your settlement
Explore the lands of the Pharaohs!
Cradle of Egypt Game Customer Reviews
Cool game!!! Very addictive. The only thing is I wish there was more of an ability for the player to choose either what to build or where to build (or both)!!! Love the different challenges and bonuses on each level - as always the graphics are awesome and music good!!! Off to play the demo again.

- by mejrdalman
There are MANY differences with Cradle of Egypt, the first being an untimed mode. This will be a definite hit with many Match 3 fans. It doesn't make the game itself any easier, but it does remove the stress.

Awem also added lots of special extras in the gameplay when multiples of the same resource are matched, when multiple combos are made, etc. Resources have been beefed up and the power-ups and have also been changed and made more useful. The mini-games are more varied and offer different levels of difficulty. Plus, there are bonus levels which unlock after you beat the game.

The same incredible graphics (only better), the same features you've come to love (blitz mode and tourny) but now with more ways to win!

This has always been one of my favorite series because of the difficulty involved. You win this game, you get a feeling of achievement. And I love that feeling.

Way to go, Awem. Hands down, the best Match 3 ever!

- by textrekkie2
This was one of the better match3 games that you have put out in a while... i loved playing it and definetly adding to my genere of match 3 games. Great graphics. I recommend this game!

- by grandma46
This is the first game I've played of the Cradle series, and I was very impressed with the gorgeous graphics and animations. I'd call it a "top of the line" game. When you've played a lot of matching games, it's easy to be blase, and one of the things that really appealed to me about this one is that you match with a purpose: to collect food, money, and bricks to build your own animated civilization. Generally I avoid anything with a whiff of history, but a good game is a good game, and I thoroughly enjoyed my "time" with this one.

- by sereneorchid
This is my first play of one of the Cradle series of games, and I was impressed with the gorgeous graphics and animations. When you've played enough matching games, you can tell those that are a step above; and this one is very well done. Yes, its a regular match 3 game, but I liked that you matched with a purpose: to collect money, food, and bricks in order to build your animated civilization. I'm not a history buff, so I didn't know if I'd be interested in the storyline, but it's a beautiful, stress-free game, and one that's well worth trying.

- by infinity
Related Games
If you like Cradle of Egypt game, you may also like...