Fitness Frenzy
Help Vicki meet a real challenge in Fitness Frenzy! in addicting Fitness Frenzy Game
System Requirements
OS: Windows XP/Vista
Memory: 128 MB
CPU: P800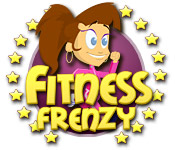 Fitness Frenzy Game Description
Help Vicki meet a real challenge! In Fitness Frenzy, YOU are a fitness trainer. You get to help people get fit and feel great. You also get to work with all sorts of people - from newbie joggers to muscle-bound weight lifters. Teach them how to work out and reach their ultimate goals. A great fitness trainer has the speed and knowledge to help each customer reach their pinnacle. How about you...can you keep up with the frenzy?
Fitness Frenzy full version features include:
50 Invigorating Levels!
10 Different Fitness Centers!
Tons Of Upgrades And Special Helpers!
Can You Keep Up With The Frenzy?
Fitness Frenzy Game Customer Reviews
Sorry Fitness Dash, but you can't light a candle to Fitness Frenzy. This game is fun and challenging and the graphics are great; easy on the eyes. I had a hard time stopping. Fitness Frenzy is a welcome change.

- by dthieman
This game was amazing. I wasnt expecting to like a fitness game but this one was really good. Its way better than wendys wellness and even fitness dash.

- by tasbutle
I really liked it. I agree with the review, not another Fashion, farm, or food game. Its different and a new type of game to play that is not just drag and drop. I did find the game dragged on a bit early on but got much more challanging later and more different characters would have been a plus.

- by csmith1
Related Games
If you like Fitness Frenzy game, you may also like...